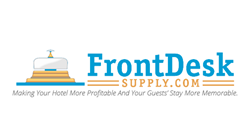 "Hospitality businesses have endured increased costs of hotel supplies due to high material demands," said Mark Zisek, Director of Commercial Operations, Front Desk Supply. "We anticipate continued heavy travel into September, and hotel managers can't be caught off guard in a perpetual peak season."
SAN DIEGO (PRWEB) August 03, 2022
Front Desk Supply, a leading hospitality supplier based in San Diego, CA, announces that hotel supplies will remain below others in the market by not raising rates at the same pace as the rise in inflation and unwavering travel demand. To assist hospitality companies burdened by the perpetual peak season, Front Desk Supply is offering a special discount on hotel product orders, which can be found at http://www.FrontDeskSupply.com/August2022/.
According to the Bureau of Labor, consumer inflation rose 9.1% in the 12-month period ending in June 2022. Rising inflation rates are making eager travelers reconsider their vacation plans, but travel trends show that they are still in a revenge travel mindset. Peak season travel is even more expensive with inflation, but vacationers continue to travel or are pushing their plans to the "shoulder season" to save money and enjoy their time.
"Hospitality businesses have endured enough with increased costs of hotel supplies as a result of high material demand, like paper, and the supply chain delays. We support hotel managers by continuing to keep our pricing below market demand," said Mark Zisek, Director of Commercial Operations, Front Desk Supply. "We anticipate continued heavy travel into September, and hotel managers can't be caught off guard in a perpetual peak season."
Front Desk Supply sales data for custom and generic supplies shows that orders grew 28% from June to July. Hotels are replenishing quickly during peak season, creating a tight and high demand for hotel supplies.
"Vacationers are in a place to spend now and think later. This year proved travelers are willing to spend more on a dream vacation, and even now, inflation is not an obstacle. Hotel managers must keep their business in shape now and past the summer season, so running out of the essentials is just not an option," Zisek said.
Front Desk Supply is an industry leader in hospitality supplies, offering a wide variety of items, including custom key cards, key card sleeves, custom pens, small or large notepads, custom stationery, branded envelopes, baggage tags, valet tags, and concierge tags.
To help hotel managers stay prepared throughout peak season, please visit http://www.FrontDeskSupply.com/August2022/ for a special discount.
About Front Desk Supply
Front Desk Supply has over 50 years of Sales, Marketing and Advertising, and Operations experience, along with the wealth of knowledge that comes from producing millions of products for thousands of hotels in the hospitality industry.
Their focus on building customer relationships is ingrained in all employees. Putting the customer first and offering a unique perspective to any situation is a hallmark of Front Desk Supply. Front Desk Supply excels in providing multiple complementary products – it makes for a one-stop shopping experience for customers and ensures messaging flows consistently across products. They expertly offer recommendations that make good business sense. Front Desk Supply: Making hotels more profitable and their guests' stays more memorable®.