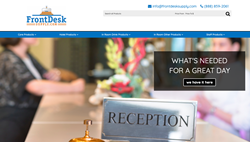 "We enjoy collaborating with hotels to design and brand the perfect products that create a connection with hotel guests from the moment they arrive to when they checkout, and ensure the hotel's brand is easily seen by guests throughout their stay." Mark Zisek, Front Desk Supply
SAN DIEGO (PRWEB) October 01, 2019
Front Desk Supply, a leading hospitality supplier, announced today that it has launched HotelSupplyHQ.com, a one-stop-shop for hotel decision-makers, housekeeping and front desk managers to enhance the guest experience with a wide range of customizable products throughout the hotel. To celebrate, Front Desk Supply announced an October special featuring a $75 discount on all first-time order of $500 or more on http://www.FrontDeskSupply.com.
"For years, hotel operators and their front desk managers have relied on Front Desk Supply for their everyday hotel essentials, but now we are looking to help expand the on-property branded presence of our hotel clients," said Mark Zisek, Director of Commercial Operations, Front Desk Supply. "HotelSupplyHQ.com also opens up our hoteliers to other commonly ordered products, that are not part of the traditional offering," Zisek added.
Front Desk Supply is a consistent supplier of a diverse array of supplies, including key cards, key card holders, do not disturb signs, valet tags, hotel pens, and notepads. Hotel Supply HQ expands the offerings to include things like shirts, hats, wine glasses, coffee mugs, and umbrellas. The site makes reviewing many of these items easier, due to the myriad of options to consider for these items.
Front Desk Supply also announced its October special. The hotel supply company is offering $75 off any first-time order of $500 or more. The discount applies to all items on the site, as well as traditional products including key card holders, hotel notepads, do not disturb signs, that are ordered via our sales team.
"We are having great conversations with our hotel partners and are customizing some truly memorable products that make a hotel stay unforgettable," said Zisek. "We enjoy collaborating with hotels to design and brand the perfect products that create a connection with hotel guests from the moment they arrive to when they checkout, and ensure the hotel's brand is easily seen by guests throughout their stay. Many of the items are often bought as a gift or memento to celebrate their amazing stay."
Hotel supply purchasers can take advantage of the October special by visiting the Front Desk Supply website at http://www.FrontDeskSupply.com/October.
================================================================
About Front Desk Supply
Front Desk Supply has over 50 years of Sales, Marketing and Advertising, and Operations experience, along with the wealth of knowledge that comes from producing millions of products for thousands of hotels in the hospitality industry.
Their focus on building customer relationships gets ingrained in all employees. Putting the customer first and offering a unique perspective to any situation is a hallmark of Front Desk Supply. Front Desk Supply also excels when being able to provide multiple complementary products – it makes for a one-stop shopping experience for customers and ensures messaging flows consistently across products. They do their best to make recommendations that make good business sense.
Front Desk Supply: Making hotels more profitable and their guests' stays more memorable.
Contact:
Mark Zisek
Front Desk Supply
mzisek@access-mktg.com
Phone: 858-699-4701 / Fax: 501-665-6489