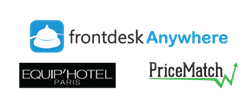 Frontdesk Anywhere together with PriceMatch is a powerful next generation Cloud solution designed for hoteliers who wish to increase revenue.
San Francisco, CA and Paris, France (PRWEB) November 14, 2014
Frontdesk Anywhere, award-winning hotel management software, announced today its participation with PriceMatch, a leading revenue management platform, at the Equip'Hotel trade show at Porte de Versailles in Paris, France, from November 16th to 20th, 2014. Hoteliers will have the opportunity to learn how these Cloud-based software systems work seamlessly together to increase revenue and improve operational efficiencies. Frontdesk Anywhere will be at booth number G09 Pavillon 2 along with PriceMatch to provide demonstrations.
Equip'Hotel is one of the largest hospitality trade shows in France. Held every other year, it attracts more than 1,600 exhibitors and 110,000 attendees who look forward to discovering the latest trends and innovations in the hospitality industry.
"Frontdesk Anywhere together with PriceMatch is a powerful next generation Cloud solution designed for hoteliers who wish to increase revenue while streamlining their operations and online distribution", stated Nadim El Manawy, Senior Manager of Strategic Partnerships at Frontdesk Anywhere.
"The hospitality industry is being revolutionized and Equip'Hotel is a tremendous opportunity for attendees to learn more about the latest innovations. We are very happy to work together with Frontdesk Anywhere to reinvent the way hotel operators manage their pricing strategies", said Khalid El Guitti, Executive Director and Co-Founder, PriceMatch.
"Equip'Hotel marks the beginning of our expansion into the French market", stated Thomas Lyle, Co-Founder and CEO, Frontdesk Anywhere. "Our company is an established leader in the American market. France welcomed 84 million international travelers in 2013 and is the most visited country in the world. We are very excited to bring our innovative technology to this new market alongside our valuable partner PriceMatch and to meet French hoteliers."
About Frontdesk Anywhere
Frontdesk Anywhere is a leading provider of innovative Cloud-based hotel management software for independent properties and management groups. Currently, over 850,000 room nights are managed monthly with Frontdesk Anywhere - at independent hotels, resorts and other accommodation facilities. The company is focused on converging processes traditionally performed by separate systems into a robust, all-in-one productivity application. All modules are seamlessly integrated within the application and accessible from any computer or connected mobile device. The company is a privately held corporation based in San Francisco, California.
For more information about Frontdesk Anywhere and its hotel management software, visit http://www.FrontdeskAnywhere.com or email sales(at)frontdeskanywhere(dot)com.
About PriceMatch
PriceMatch provides an innovative and easy-to-use revenue management solution designed for both hotel managers and experienced revenue managers. Using big data and advanced econometric tools, the PriceMatch algorithm provides pricing recommendations through an extremely user-friendly website. Our account managers and engineers can provide you with a personalized experience to help optimize your RevPar.
For more information, please visit http://www.pricematch.travel.