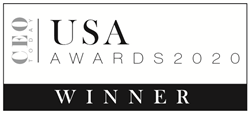 The CEO Today USA Awards identify the most outstanding and forward-looking leaders in business today.
AUSTIN, Texas (PRWEB) September 24, 2020
Committed to celebrating the success, innovation and strategic vision of CEOs across a number of sectors and industries within the country, the CEO Today USA Awards identify the most outstanding and forward-looking leaders in business today. While making the public announcement, Editor-in-Chief, Mark Palmer commented, "At CEO Today, we are immensely proud to be able to provide a platform which highlights those truly inspiring American company CEOs and leaders who have managed to successfully navigate this year's unprecedented challenges. This is why now, more than ever, the business leaders and CEOs who have shown true resilience during these turbulent times need to be recognized and celebrated".
The 4-page award article published in CEO Today Magazine features L. Pierre de Rochemont, (FNS, Founder & GM) and Larry Kubes, who recently joined the company to lead the development of its Ground-based Vehicle Unit. "All I can say is that this is as much a surprise as it is a privilege," de Rochemont remarked.
CEO Today Magazine is based in the United Kingdom (Tamworth) and is affiliated with Universal Media, Ltd. (London). Its USA Awards recognize, identify and honor the most respected companies and their C-level executives operating within the USA today. The magazine's research team draws on the views of thousands of stakeholders including investors, analysts, executives, employees, and media professionals worldwide. The research is then combined with the voting data received via the magazine's voting platform to draw up a list of just the 100 CEOs featured in the 2020 CEO Today USA Awards publication. L. Pierre de Rochemont and Frontier NanoSystems were selected for their contribution in the field of Innovation.
The selection followed a four-stage process comprising editorial nominations, readership voting, shortlisting and the finalists' selection. Editorial nominations were put forward by the editorial panel for business leaders and businesses based on the previous 12 months performance. CEO Today readerships had their say by way of the voting process conducted via the magazine's online voting portal that was open to magazine subscribers, readers and the public for a 4-month period. A communications campaign was initiated to encourage global participation in selecting a chosen individual and or firm. The voting process began in December 2019. Candidates were shortlisted at CEO Today magazine headquarters, and the finalists were selected by the editorial team to contest for the various regional categories. They were then shortlisted and scored on the awards criteria. Those receiving the highest score within each region were selected for the 2020 accolade.
"We have been proposing fundamental changes to industries that have long been commoditized, are depreciating in real economic value, and now find themselves in dire need of fresh solutions and a completely new direction. The task has been a big challenge," de Rochemont noted. "More often we have been confronted by the word 'CAN'T', which does not exist in our lexicon. It is wonderful to be recognized by others who follow a broad, rigorous, and comprehensive selection process and whose thinking is punctuated by the word 'CAN' when the changes, like those we intend, are needed to set the global economy back on a prosperous and economically sound course."