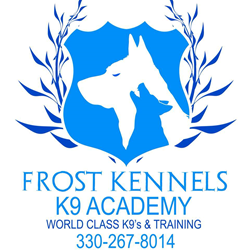 You name it, we train it!
LOUISVILLE, Ohio (PRWEB) September 05, 2018
Frost Kennels is a local business, that is proudly staffed with a team of nationally recognized subject matter expert canine training professionals. Frost Kennels guarantees that all of our canines are prepared to accomplish any canine related task set before them. Frost Kennel's approach is to build a trusting relationship with customers and strategic partners through transparency and professionalism.
Frost Kennels is dedicated to providing world-class canine services to governmental, commercial, and private entities and families/individuals worldwide. Both domestically and abroad, Frost Kennels has been a premier turn key K-9 solution, placing our highly-trained canines in positions where they continue to save lives daily. Our goal is to provide you with a canine that fits your precise needs and mission. From single events and needs to fully integrating K-9 Teams into already existing security, we have the skills and knowledge to deliver with high superiority.
Years of canine experience within the U.S. Government with agencies such as: Transportation Security Administration; Department of Homeland Security; Department of Justice; Department of Agriculture; The Bureau of Alcohol, Tobacco, Firearms, and Explosives; Drug Enforcement Agency; Federal Bureau Investigation; Various local and state law enforcement agencies; U.S. Customs and Border Patrol; and all branches of the U.S. Military gives our staff an accelerated knowledge of the providing the best detection canines possible to the U.S. Government.
Many of our experts have served honorably in the US Military Special Forces along with the above elite units for more than a decade and remain deeply tied to these organizations today. That directly translates to the immediate access of that experience to our clients.
Frost Kennels is committed to providing the specialty canine solution that you need. Our canines are all trained and certified to the highest standards in the industry and our personnel come from a wide range of Military and Law Enforcement backgrounds with years of experience in real world environments. Whatever your need we have the knowledge and skills necessary to find the right solution for you.

Explosive Detector Dogs (EDD): Canines used to detect the threat of explosives.
Narcotics Detector Dog (NDD): Canines used to detect illegal substances
Human Remains Detection (HRD): These team are uniquely trained for the search and recovery of missing people.
Mine Detector Dog (MDD): K-9 Teams whose sole purpose is the locating of underground mines and explosives
Special Purpose Teams: Canines can be trained to fill a large range of duties and we can train a dog to fit your specific need.
Protection/Patrol Dogs (PD): An amazing deterrent and protection tool that can keep you safe from harm.
Multi-Purpose Canine (MPC): Canines trained in either Narcotics or explosive detection as well as patrol/bite work and tracking.
Specialized Search Dog (SSD): Canines which operate off leash at incredible distances utilizing commands given through a radio attached to them. These canines are utilized in the detection of explosives found in improvised explosive devices.
Passenger Screening Canines (PSC): Canines trained to detect explosives found on persons while they are mobile. These canines are utilized to detect suicide bombers and are particularly useful at large venues like sporting events, concerts, races or any gathering of large numbers.
Puppy Program (PP): Frost Kennels has an in-house puppy program that is currently sourcing canines to the Transportation and Security Administration (TSA) as well as US Customs and Border Patrol (CBP) and local Law Enforcement Agencies. These puppies are trained in a wide range of skills and come genetically superior to the canines currently being sourced overseas.
Frost Kennels goal is always exceed your expectations and provide you with the best service in the Industry.