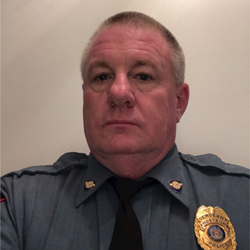 "As soon as college starts, the speeding complaints increase and in the past ten years, we have had seven pedestrian strikes. ATS's radar trailer will help to calm the community and lighten manpower issues."- Lieutenant Mike Sweitzer, Frostburg Police Department
HERNDON, Va. (PRWEB) September 17, 2020
[Herndon,VA]: All Traffic Solutions Gives Back program is excited to announce it has awarded the Frostburg Police Department a SpeedAlert18 message sign to improve the safety of their community and reduce speeding- - in high pedestrian areas. All Traffic Solutions (ATS) launched the program in August to serve police departments in smaller communities that were struggling with their budget, unable to qualify for grants, and needed our signs to make their community safer and save lives.
"We were struggling to receive grants to purchase radar signs and trailers. The FBI recommends we should have twenty-seven policemen on board, and we have seventeen. Our crime rate is a 6, comparatively, Chicago is a 23. It's tough for Frostburg to qualify for grants given the competitive market," said Lieutenant Mike Sweitzer, Frostburg Police Department.
Frostburg is a small community of 9,000 permanent residents in westernmost Maryland. It swells to a community of 15,000 when students attend Frostburg University. Most students are not used to the slower speeds of rural Maryland. Unfamiliar drivers flood the streets leading to recreation complexes within the city limits. Residents in the area flood the agency with speeding complaints. With a small sworn force of seventeen, they are unable to be everywhere at once.
"As soon as college starts, the speeding complaints increase and in the past ten years, we have had seven pedestrian strikes. When we receive resident complaints, we take them seriously and usually have to pull someone from service for radar surveillance," continued Lieutenant Mike Sweitzer. "ATS's TraffiCloud reports will help us target enforcement areas and times of excessive speeding. Do we really need to do pull someone from a critical activity or if it is just an imagined problem? It will help us take proactive decisions in the community."
Frostburg Police Departments intends to use the ATS SpeedAlert18, which they have named SAM (Speed Awareness Monitor), and the data from ATS's TraffiCloud to engage with the community. They will use SAM in various hotspot locations to baseline driving speeds at different times. The baseline data from TraffiCloud will make the community more aware of the happenings at these locations.
About All Traffic Solutions: All Traffic Solutions (ATS) is a leader in traffic safety and data analytics for Intelligent Transportation System (ITS) and smart parking applications. We help law enforcement, municipal agencies and commercial organizations use data and cloud-supported devices such as web-enabled radar speed displays, conditional messaging technology, and lidar technology to calm traffic, optimize parking availability, share notifications, and improve traffic safety— while maximizing resources and budget.
https://www.facebook.com/FrostburgPolice/
https://twitter.com/alltrafficsol
https://www.linkedin.com/company/all-traffic-solutions/
https://www.facebook.com/alltrafficsolutions