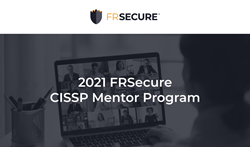 Typically, these courses cost trainees around $3,000, but FRSecure has and always will offer it free. It is estimated that Evan and FRSecure have saved industry professionals over $9M in training costs.
MINNETONKA, Minn. (PRWEB) March 09, 2021
FRSecure, a cybersecurity service provider in Minnetonka, Minn., is nearing the start of its 12th annual CISSP Mentor Program as a way to give back and grow the information security industry, an industry with heavy barriers.
Since its founding in 2008, FRSecure has had the mission of fixing what CEO and founder Evan Francen considers to be a broken industry. Much of what makes the information security broken is that it has education, training, and mentorship barriers that make it difficult for strong, qualified individuals to break into it. For this same reason, the industry also lacks diversity, a problem that limits the perspectives and thinking that a variety of people tend to bring.
So, in 2010, Evan and FRSecure started the CISSP Mentor Program—a training opportunity that was intended to help industry professionals pass the CISSP certification exam. This certification is considered the gold standard in general information security practice. Since having just six students in 2010, the program has blossomed. It has nearly doubled in participation every year since 2018, and close to four thousand people have registered for this year's course (up from 2040 last year).
Typically, these courses cost trainees around $3,000, but FRSecure has always and will always offer it free of charge. It is estimated over time that Evan and FRSecure have saved trainees over $9M in collective training costs.
Since the COVID-19 pandemic hit right before the class start in 2020, the course has been shifted to online-only. It is live-streamed on YouTube and is recorded for participants all over the globe to watch on their own time. Evan still teaches the course along with colleagues, Brad Nigh and Ryan Cloutier. The live sessions are 6 pm – 8 pm central time on Mondays and Wednesdays over eight weeks starting April 12.
To learn more about the program and to register, visit: https://frsecure.com/cissp-mentor-program/