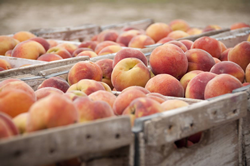 Frog Hollow Farm captured our hearts and our taste buds with their delectable array of Fruit Club options, all grown on their organic, eco-friendly farm and orchard
Overland Park, KS (PRWEB) December 27, 2020
TopConsumerReviews.com recently gave its best-in-class 5-star rating to Frog Hollow Farm, a trusted provider of Fruit Club subscription plans.
Getting produce from the grocery store can often be described as disappointing. Most shoppers are all too familiar with the experience of bringing home peaches, berries or melons, only to find that they've gone moldy within a day or two. Even buying from a farmer's market can be hit-or-miss, especially when customers want fruit that's in season - but grown halfway across the country. Enter Fruit Clubs: the nation's best method of delivering juicy, just-picked fruit right to the customer, eliminating the long transit times and shelf-stocking delays too. These subscription plans are ideal for both gift-giving and personal enjoyment, with deliveries scheduled weekly, biweekly, monthly or seasonally as desired.
"Frog Hollow Farm captured our hearts and our taste buds with their delectable array of Fruit Club options, all grown on their organic, eco-friendly farm and orchard," stated Brian Dolezal of TopConsumerReviews.com, LLC. "Located in Brentwood, California, Frog Hollow Farm is completely dedicated to responsible stewardship over the environment, offsetting all of their carbon emissions from shipping, packing their fruits in eco-friendly ways, and using growing practices that support regenerative agriculture. Plus, their fruits are absolutely mouth-watering, from hard-to-find varieties of peaches and pluots, to nectarines, pears, cherries and more. There are 12 different Fruit Clubs to choose from, based on when their produce is in season, and your shipping fees are included at no extra charge. Customers rave about the extraordinary quality of the fruit, packaged to arrive in perfectly fresh condition. You may have trouble choosing just one Fruit Club because they're all amazing! For all of these reasons, Frog Hollow Farm earns our highest ranking among providers of Fruit Clubs in 2020."
To find out more about Frog Hollow Farm and other online Fruit Clubs, including reviews and comparison rankings, please visit the Fruit Clubs category of TopConsumerReviews.com at https://www.topconsumerreviews.com/best-fruit-clubs/.
About Frog Hollow Farm
Frog Hollow Farm is a 280-acre farm located in Brentwood, California. They grow legendary organic fruits and produce small-batch gourmet foods sold directly to consumers through their website, farmers' market, CSA and farm-to-table cafe. The farm is certified organic with C.C.O.F. (California Certified Organic Farmers) and committed to sustainable practices. In addition to their growing practices, they believe in sustainable labor practices and provide year-round employment for many local residents.
About TopConsumerReviews.com
TopConsumerReviews.com, LLC is a leading provider of reviews and rankings for thousands of consumer products and services. From Fruit Clubs to Flower Delivery and Chocolate Stores, TopConsumerReviews.com delivers in-depth product evaluations in order to make purchasing decisions easier.