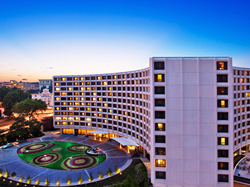 "Our conferences serve vital roles to ensure that all of our stakeholders are working together...to speed up the delivery of effective treatments to our families." - Mark Stone, CEO
LEXINGTON, Mass. (PRWEB) September 10, 2019
The FSHD Society announced today that its 27th annual International Research Congress (IRC) will be held on June 25-26, 2020, at the Washington Hilton in Washington, DC. It will be followed on June 27-28 by FSHD Connect, the Society's biennial global conference bringing together patients, family members, researchers and clinicians for two days of education, advocacy, and networking.
The Society is a patient-focused nonprofit organization that is accelerating the development of treatments for facioscapulohumeral muscular dystrophy (FSHD), a rare, genetic muscle-weakening condition that affects an estimated one million men, women, and children worldwide.
The IRC is the premier global platform for the discussion and dissemination of state-of-the-art research on FSHD. Researchers who have networked at this yearly gathering since 1994 have helped to drive fundamental discoveries, with a broad consensus on a "central hypothesis" of the genetic basis of FSHD, development of cellular and animal models, identification of therapeutic targets, and a proliferation of ideas for treating FSHD.
The biennial FSHD Connect is the world's largest gathering of patients and families living with FSHD. Leading experts in FSHD clinical care, research, and drug development will share the latest knowledge and answer questions from attendees. There will be workshops to address a wide variety of patient and caregiver concerns. A much-anticipated highlight will be updates from biopharmaceutical companies that are conducting FSHD clinical trials.
"The FSHD International Research Congress and FSHD Connect serve vital roles to ensure that all of our stakeholders are working together, speaking with one voice, to speed up the delivery of effective treatments to our families," said Mark Stone, President and CEO of the FSHD Society.
About the FSHD Society
The FSHD Society is the world's largest research-focused patient organization for facioscapulohumeral muscular dystrophy (FSHD), one of the most prevalent forms of muscular dystrophy. The Society has catalyzed major advancements and is accelerating the development of treatments and a cure to end the pain, disability, and suffering endured by one million people worldwide who live with FSHD. The FSHD Society has transformed the landscape for FSHD research and is committed to making sure that no one faces this disease alone. The Society offers a community of support, news, and information through its website at https://www.fshsociety.org.