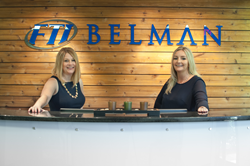 With more breakthroughs in a digital world, we must be ready to approach the market with innovative business models and solutions
DALLAS (PRWEB) September 04, 2018
FTI Belman is illustrating how to successfully maneuver in an ever-changing communications industry. In a world demanding transforming data platforms and seamless connectivity, evolution has become the word of the day.
Today, Co-owner and President, Angela Bell, unveiled the newest evolution for the company starting with the departure of Jose Cantabrana as Co-owner and Chief Operations Officer of the company. Stepping down from the position, Cantabrana explained his withdrawal stating, "I have resigned my ownership and COO positions for personal reasons." Cantabrana wrapped up by wishing everyone well and said, "I am confident the company will carry on as usual and continue to grow."
Embracing change is precisely what FTI Belman has done since they purchased Field Telecomms Inc. from Scottish entrepreneur John Christie in 2015. The last three years has seen growth that has positioned the company to reach $5 million in revenue this year and necessitated the recent relocation to a larger facility in Plano.
The larger accommodations provide the opportunity to support the emergence of a new venture for the company. "New platforms create new needs in the electrical and telecom industry," explained Ingrid Landman, Co-owner and Chief Financial Officer. "Our overall objective is to guarantee that we provide customers with a full-service procurement solution with products and services expeditiously obtained from the right source at the right prices," continued Landman.
FTI Belman is in the process of developing e-commerce capabilities to support the formation of their procurement expansion. The goal is to automate purchasing using an online tool built to simplify customer interaction. The site is expected to go live in January 2019 and will contribute to a projected $7 million in revenue for 2019.
Bell and Landman remain resolute regarding their vision and strategy for the company. With a combined 30 years of experience they continue to exemplify and foster the company philosophy summed up in three words; flexibility, technology and ingenuity.
"With more breakthroughs in a digital world, we must be ready to approach the market with innovative business models and solutions," said Bell. "We continue to strive to find new ways to deliver solutions to our customers while also implementing our strategy to achieve long-term profitable growth."
Change is constant and FTI Belman continues to exhibit the ability to consistently create a clear path for deftly navigating the company's growth strategy all while successfully accommodating an ever-changing and demanding industry. For more information, please visit ftibelman.com.