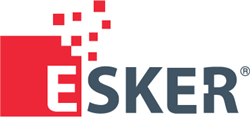 Esker allows us to work more intelligently
MIDDLETON, Wis. (PRWEB) December 19, 2018
Esker, a worldwide leader in document process automation solutions and pioneer in cloud computing, today announced that Fuchs Lubricants Co., the world's largest independent lubricant manufacturer, is working with Esker to automate its sales order process (SOP).
Fuchs' search for an automated solution was prompted by the need for more efficient and accurate order processing. After years of searching for a solution that would meet the company's needs, Fuchs ultimately chose Esker's AI-driven Order Processing automation solution.
Prior to working with Esker, Fuchs' Customer Solutions Specialists (CSSs) had to manually sort and distribute up to 300 highly specialized orders daily. Customers had been submitting orders to a general inbox that received hundreds more administrative emails a day, further complicating the process. This created bottlenecks in the process and meant the team lacked critical insight into order priority.
Within a few months of implementing Esker's Order Processing automation solution, 60 percent of customers began submitting orders via Esker. This enabled Fuchs to significantly accelerate its order management process—what previously took four or five days is now processed in as few as six hours. Additional benefits for Fuchs include:

Lean growth. Esker's cloud-based solution allows Fuchs to sustain its growth without increasing headcount.
Priority order handling. Without insight into which orders were priority, the staff had difficulty meeting customer expectations. With Esker, separate queues mean priority orders can be expedited.
Value-added tasks. Esker's machine-learning technology has helped reduce order backlog and free up CSSs to anticipating customer needs. It also enables team members to specialize across the various industries in which Fuchs' customers operate.
"Esker allows us to work more intelligently," said Chris Raleigh, Customer Solutions Manager at Fuchs Lubricants Co. "Our Customer Solutions Specialists have gone from being overwhelmed, to having the time to provide proactive service to our most valued customers. It's been a dramatic change."
About Fuchs Lubricants Co.
The FUCHS Group develops, produces and markets high-grade lubricants and related specialties for virtually all industries and areas of application. Formed in Mannheim in 1931, the Group employs more than 5,000 people worldwide at 58 operating companies. FUCHS is the world's largest independent lubricant manufacturer. Its most important markets in terms of sales revenues are Western Europe, Asia and North America.
About Esker
Esker is a worldwide leader in cloud-based document process automation software, helping financial and customer service departments digitally transform their order-to-cash (O2C) and purchase-to-pay (P2P) cycles. Used by more than 6,000 companies worldwide, Esker's solutions incorporate technologies like artificial intelligence (AI) to drive increased productivity, enhanced visibility, reduced fraud risk, and improved collaboration with customers, suppliers and internally. Esker operates in North America, Latin America, Europe and Asia Pacific with global headquarters in Lyon, France, and U.S. headquarters in Madison, Wisconsin. For more information on Esker and its solutions, visit http://www.esker.com. Follow Esker on Twitter @EskerInc and join the conversation on the Esker blog at blog.esker.com.