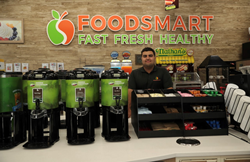 "We're trying to bring healthy alternatives in terms of snacks to the community, as well as lower-priced gas. It's so low that people think it's a joke," said Adam Musa
YONKERS, N.Y. (PRWEB) November 05, 2021
Fuelco/Foodsmart continued its expansion in Westchester County by celebrating the grand opening of a Yonkers location on October 28.
Fuelco/Foodsmart President Adam Musa welcomed local elected officials to the new service station at 651 Bronx River Road to cut a ribbon and give them tours of the Foodsmart convenience store that shares the location with Fuelco. The service station combines deeply discounted gasoline and a variety of organic, gluten-free, and fair-trade snacks, along with convenience store staples—think Trader Joe's with a gas pump.
"We're trying to bring healthy alternatives in terms of snacks to the community, as well as lower-priced gas. It's so low that people think it's a joke," said Musa during the ribbon-cutting ceremony when a gallon of unleaded gasoline cost $1.99 as a grand opening special.
The Yonkers service station is the 22-year-old Harrison High School graduate's second location. The first Fuelco station at 85 Virginia Road in Valhalla, N.Y. opened last year, and Musa plans additional service stations in Westchester County, Fairfield County, Putnam Valley and Miami-Dade.
Musa's Foodsmart brand responds to evolving consumer tastes. "The world is changing. Diets are changing. Keto friendly, kosher, vegan, vegetarian, gluten free, and other dietary restrictions have people transforming their diets. Unfortunately, most traditional convenience stores have not adapted," Musa said.
While Doritos, Coca-Cola, and Hershey bars were once top sellers, Foodsmart sales show that traditional snacks are outsold by products like Rhythm Broccoli Bites, Harvest Snaps Green Pea Crisps, Amphora Organic Dried Fruit. The reason for these surging sales is Musa's strategy of targeting dense residential areas and providing a 24/7 convenience store that mimics Trader Joes' and Whole Foods' offerings. Musa has an advantage over the larger specialty grocers, as the lower rent, real estate taxes, payroll and gas sales allow Foodsmart to sell healthy products for less.