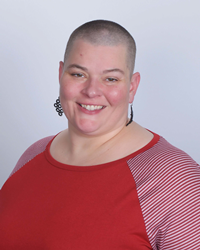 "Having a business that is supported with the right technology solutions can ensure companies are realizing their maximum earning potential. I'm excited about this role and the opportunity to help clients with their continued success."
STEAMBOAT SPRINGS, Colo. (PRWEB) November 02, 2021
Full Sail Partners, a Deltek Premier Partner and creator of the Blackbox Connector, continues to grow with the addition of Cate Phillips as a Relationship Manager. In this newly created role, Cate will assist clients with identifying Deltek software solutions, specifically modules available in Vantagepoint, that will benefit their firm along with providing product demonstrations. Cate's background and strong ability to understand client needs will allow her to ensure clients are making the right investment for their firm.
Cate has been using Deltek products for more than six years and understands the unique requirements of professional services firms. Additionally, Cate has been an entrepreneur for most of her professional life owning a variety of businesses that focused primarily on marketing and communications. She also has a Bachelor of Science in Electrical Engineering.
"Having a business that is supported with the right technology solutions can ensure companies are realizing their maximum earning potential,' stated Cate Phillips, Relationship Manager at Full Sail Partners. "I'm excited about this role and the opportunity to help clients with their continued success."
As a relationship manager, Cate will work directly with clients to explore the Deltek software solutions that Full Sail Partners represents. Furthermore, Cate will demonstrate the different components of Deltek Vantagepoint so clients can get the full picture on how a project-centric ERP system can support all the roles within their firm.
"With the overwhelming amount of interest in Deltek Vantagepoint, we felt the addition of a new role was needed so that we can continue to meet all of our clients' needs," explained Sarah Gonnella, VP of Marketing and Sales at Full Sail Partners. "As we began to explore this new role, Cate was the obvious fit and the perfect addition to our team. Her enthusiastic attitude and abilities to understand complex business problems makes her a great asset to our current and future clients."
About Full Sail Partners
Full Sail Partners provides client-focused technology services and solutions for more than 1,000 professional services firms nationwide. As a Deltek Premier Partner and the creator of the Blackbox Connector, Full Sail Partners helps project-based firms fully integrate their business processes by connecting their front end and backend systems. We seek to help organizations identify the critical resources needed to create a faster, more efficient, and cohesive business infrastructure.
Full Sail Partners – Keep Your Business on Course. For more information, please contact Full Sail Partners' Marketing and Communications Department or visit the Full Sail Partners' website at http://www.fullsailpartners.com.