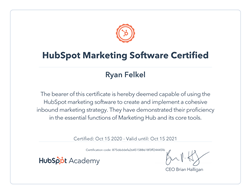 "Earning the HubSpot Marketing Software Certification demonstrates both mine and Full Sail Partners' commitment to ensure clients find value from our content."- Ryan Felkel
ATLANTA (PRWEB) November 03, 2020
HubSpot offers a marketing automation platform to help firms attract the right audience, convert more visitors into customers and run inbound marketing campaigns. There are over 86,000 users in over 120 countries increasing business with HubSpot. The mission of HubSpot Academy is to transform the way people and companies grow by offering free online trainings for the digital age. From quick, practical courses to comprehensive certifications, those interested can learn about cutting edge business topics and how HubSpot's built in tools support these business growth strategies.
"As a marketing professional and an avid HubSpot user, I use this powerful marketing platform to drive Full Sail Partners' inbound marketing efforts," stated Ryan Felkel. "Earning the HubSpot Marketing Software Certification demonstrates both mine and Full Sail Partners' commitment to ensure clients find value from our content."
On the verge of offering the HubSpot Blackbox Connector for Deltek Vantagepoint and Vision, Full Sail Partners is looking to help clients best utilize HubSpot together with Vantagepoint and Vision. With this certification, Ryan serves as an internal resource to lend his insights on how clients can benefit from using the product. The Blackbox Connector for HubSpot is scheduled to be released the first half of 2021.
"I am very pleased that Ryan chose to pursue the HubSpot Marketing Software Certification to elevate his ability to provide content that is beneficial to our clients and perspective clients. The knowledge he has acquired from the HubSpot Marketing Certification demonstrates his dedication to become an expert on the HubSpot marketing software platform and to provide guidance to our internal team as we finalize the development of our Blackbox Connector for HubSpot," explained Sarah Gonnella, VP of Marketing and Sales.
About Full Sail Partners
Full Sail Partners provides client-focused technology services and solutions for more than 1,000 professional services' firms nationwide. As a Deltek Partner, SAP Concur Diamond Partner, and the creators of the Blackbox Connector, Full Sail Partners helps project-based firms fully integrate their business processes and improve their business intelligence capabilities. We seek to help organizations identify the critical resources needed to create a faster, more efficient, and cohesive business infrastructure.
Full Sail Partners – Keep Your Business on Course. | For more information, please email Full Sail Partners' Marketing Communications Department or visit the Full Sail Partners' website at https://www.fullsailpartners.com/.