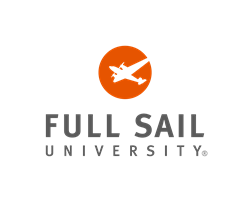 WINTER PARK, Fla. (PRWEB) November 30, 2021
Full Sail University is proud to announce that it has joined the Orlando/Central Florida Chapter of the VR/AR Association. As a longstanding member of the global technology community, and with degree programs centered on Emerging Technologies, including Computer Science, Cybersecurity, Game Development, IT, Simulation & Visualization, and Mobile Development, the university joined the VR/AR association to continue to serve and impact the VR/AR community through education.
The VR/AR Association (VRARA) is a global industry association that strives to offer a connected local & global community of members through its initiatives including industry committees, educational resources, and networking opportunities, via local Chapters. Chapters are run by a local Chapter President that helps coordinate events, case studies, highlight member institutions, and connect and introduce members in the local community and across the globe.
"Our region is home to a tremendous technology-focused ecosystem that is continuing to innovate at a rapid pace, thus solidifying Orlando's place as one of America's main hubs for the use of immersive technology," said John Cunningham, VRARA Orlando Chapter President. "Having Full Sail University as a member of the Orlando/Central Florida Chapter is a testament to their continued commitment to pushing the tech industry forward, in addition to supplying their educators, students, and alumni with the valuable resources and opportunities made available through the VRARA."
The VRARA is focused on creating a member community of not only VR and AR solution providers and content creators, but also having a large percentage of members being the brands and customers of VR and AR, academic institutions, media and entertainment companies, aerospace and defense companies, healthcare operators and more. This serves to accelerate networking and sharing of knowledge through case studies, discussions, collaborative programs, and training.
"At Full Sail, we make it a point to keep our finger on the pulse of the industries in which our degree programs and graduates serve," said Luis Garcia, VP of Emerging Technologies, Full Sail University. "Being a part of the VRARA allows us the opportunity to learn, lead and educate, while continuing to contribute to our thriving tech community both locally and internationally. I'm honored to serve on the Orlando Chapter's Advisory Board, and I look forward to all we will accomplish together."
About Full Sail University:   
Full Sail University is an award-winning educational leader for those pursuing careers in entertainment, media, arts and emerging technologies. Founded in 1979, Full Sail has received numerous accolades throughout its 40+ year history, including most recently a 2021 "Top Graduate & Undergraduate Schools to Study Game Design" by The Princeton Review, a 2021 "Top 50 Film Schools" by The Wrap Magazine, and a 2019 "School/College of the Year" by the Florida Association of Postsecondary Schools and Colleges.  
Full Sail University is a graduate and undergraduate degree-granting institution offering on-campus and online degree programs in areas related to Art & Design, Business, Film & Television, Games, Media & Communications, Music & Recording, Sports, and Technology. With over 82,990+ graduates worldwide, Full Sail alumni have worked on countless award-winning projects with individual recognition including OSCAR®, Emmy®, GRAMMY®, ADDY®, MTV Video Music Award, and Video Game Award honors.