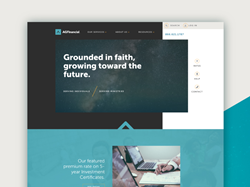 AGFinancial, a faith-based financial institution that offers services and products for both ministry growth and personal financial health, partnered with the Springfield, Mo.-based digital agency to design and build its new website.
SPRINGFIELD, Mo. (PRWEB) October 13, 2020
Mostly Serious, a full-service digital marketing agency specializing in custom web design, marketing, and advertising, recently launched a new website for AGFinancial, a faith-based financial institution that offers services and products for churches as well as individuals. The new site puts more emphasis on AGFinancial's wealth of resources and makes it easy for AGFinancial's audiences to get started with a service or get in touch with a consultant.
A Web Presence For Best-In-Class Financial Offerings
Mostly Serious's new website for AGFinancial features completely custom web design and was built with Craft CMS, a content management system that accommodates complex website features and functionality. The financial institution's new site is a dramatic shift from its predecessor in terms of look and feel, but it also offers more to visitors in terms of navigational cues and overall ease of use.
"One thing we specifically set out to accomplish with the new AGFinancial site was to overhaul the site's content hierarchy in order to better predict when and where site visitors would need a certain type of information," said Molly Riddle-Nunn, Mostly Serious's director of content strategy. "We're confident the site's new structure, organization, and design will have a really strong impact on the experience new and returning site visitors have when they visit agfinancial.org."
Strategy and Needs Assessment as a Precursor
In order to help project stakeholders plan and secure a successful outcome, the AGFinancial site redesign began with a strategic planning session as well as an in-depth needs assessment, both of which are critical components of Mostly Serious's unique approach to projects. While strategic planning establishes alignment of project goals as they relate to larger business goals, the needs assessment stage is vital to uncovering previously unknown information about a client's peers, current website, industry landscape, and more.
AGFinancial expressed its satisfaction with both the project's outcome and working with the web design agency in general.
"Through this process of developing the AGFinancial website, Mostly Serious has become a part of our extended team, and working with them could not have been better," said Andy Whaley, AGFinancial's senior vice president of marketing and strategic partnerships. He continued, "We don't just have a vendor that built us a website—we have a digital partner that we enjoy working with and trust to help shape the future of our brand."
About AGFinancial
AGFinancial is dedicated to supporting both ministry growth and personal financial health for those they serve. AGFinancial offers products and services that are competitive with the finest for-profit financial institutions in the country. Its goal is simple: to provide the tools individuals and churches need to make their financial goals a reality.
For more information about AGFinancial, visit http://www.agfinancial.org.
About Mostly Serious
Founded in 2010, Springfield, Mo.-based full-service digital agency Mostly Serious offers the latest in custom web design and development, digital marketing and advertising, and more. Mostly Serious crafts award-winning websites for Burrell Behavioral Health, CoxHealth, and other well-known entities in the southwest Mo. region. For more information about Mostly Serious, visit mostlyserious.io or email info@mostlyserious.io.