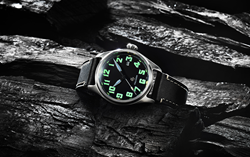 Read your time even in complete darkness, with a watch that is forged by you.
HONG KONG (PRWEB) September 23, 2020
The FullGear team is unveiling their first series of watch at Kickstarter, named Pioneer, a handsome automatic pilot watch equipped with Swiss made tritium gas light. Paired with their user-friendly watch customizer, customers are going to experience a new concept of watch making, a total freedom of what-it-would-be for your watch.
FullGear is the world first customizable tritium watch brand. Starting from color of the case, design of the dial, color of hands, material of the strap, you could even have access to color of tritium tubes on the dial or hands. None of the other tritium watch brands offer customizing service as detailed as this before.
The leader of the FullGear Team, Luke Lau, explains, "Our team members are all veterans from the watch industry. We believe timepiece is not just a tool, it is a part of your character and your partner to cope with different challenges. That's why we created FullGear, a watch equipped with the finest material, an all-the time glowing light for you even in complete darkness. Reading the time is no longer a problem in extreme conditions. We are so excited to share this watch to the kickstarter community."
Pioneer series features Swiss made GTLS from mb microtec, a leading tritium tube manufacturer located in Niederwangen, Switzerland. Most of the other expensive tritium watch brands are also using their GTLS. FullGear is non-compromising on every part and material; the cases are made with marine grade 316L stainless steel, while the straps are high quality USA oily leather with quick release system. The core is the SII NH35 3 hands date automatic movement, a reliable choice based on its steady performance.
The FullGear Kickstarter campaign will be launched on 12/10/2020. Super Early Bird price as low as USD$293. You can sign up for prelaunch notifications at the link below:
https://www.kickstarter.com/projects/fullgear/fullgear-the-world-1st-customizable-tritium-watch
About the FullGear Team:
The FullGear Team is composed of well-experienced watch makers of different fields in Hong Kong. They have been designing and manufacturing thousands of timepieces in different materials and specifications in their career. From high-end tourbillion watch to multi-function smart watch, the passionate team is now looking for new challenges.
Proposed Kickstater Launch date: 12/10/2020 (Duration 35 days)
Kickstarter preview link (change may occur before launch): Click Here
Press Release Link (Watch photos. Mood shot photos): Click Here
Contact: Luke Lau
E-mail: marketing@fullgear.watch
Facebook: https://www.facebook.com/FullGearWatches
Twitter: @FullGear_Watch