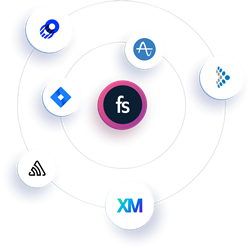 "Now, our customers can build an open technology stack to deliver the most innovative and impactful customer experiences." — Chris Samila, FullStory VP of partnerships.
ATLANTA (PRWEB) February 25, 2020
Digital experience software company FullStory announced the launch of its Technology Partner Ecosystem. This selective program introduces a network of industry-leading technology partners whose software integrates seamlessly with FullStory's powerful digital experience platform, enabling companies to deliver exceptional customer experiences through a fully integrated tech stack.
The Technology Partner Ecosystem boasts 15 categories of technology providers, including experience optimization, product analytics, experience management, application performance management, and customer data platforms. Now, companies can easily find software solutions that connect fluidly with FullStory's digital experience platform.
"FullStory's mission is to empower teams with the customer experience insights they need to make digital products and apps better for everyone," says FullStory CEO Scott Voigt. "To succeed at this mission, our customers need their data to work together seamlessly, providing answers to customer issues no matter where they arise. Our investment in this Technology Partner Ecosystem will eliminate friction in data flows and help companies make customer-focused decisions at scale."
FullStory's Technology Partner Ecosystem furthers a commitment to robust API documentation and offers organizations the opportunity for bilateral integrations, ensuring that data is accessible where and when it's needed most.
"This partner program creates a framework to integrate FullStory's digital experience data with best-in-breed SaaS technology for the purpose of solving challenging customer experience issues," said Chris Samila, FullStory VP of partnerships. "Now, our customers can build an open technology stack to deliver the most innovative and impactful customer experiences."
The Technology Partner Ecosystem extends the already robust FullStory Solution Partners Program and expands the FullStory Partner Ecosystem to include both partner services and technologies. Organizations interested in joining the FullStory Partner Ecosystem can learn more at fullstory.com/partners.
Samila highlighted several partnerships across multiple categories that extend and amplify digital experience capabilities for its customers, including five essential categories for improving the customer experience:
– Experience Optimization –
Experience optimization solutions power experimentation and personalization at scale, accelerating the delivery of better digital experiences across the entire customer life cycle. Through the Technology Partner Ecosystem, organizations can use FullStory's digital experience data to drive more effective experimentation initiatives.
"We use Optimizely to test and deliver better experiences to our customers," said Peter Gorman, global VP of product and technology from Berlitz. "Because we're able to integrate Optimizely and FullStory seamlessly, we gain even more insights from our experiments. FullStory helps us eliminate the guesswork around our user journey so we're continuously improving our customer's experience."
Partners in the experience optimization category include: AB Tasty, Optimizely, and SiteSpect.
– Customer Feedback and Experience Management –
Customer feedback management and experience management platforms capture customer feedback across the purchasing journey. When customer feedback is combined with digital experience data from FullStory, organizations get a comprehensive, 360° view of the customer experience.
Now, organizations can see what happened before, during, and after a customer leaves feedback as well as how feedback connects to conversion. Teams can get close to the customer's actual experience online and identify and prioritize solutions that will meaningfully improve that customer experience, driving customer loyalty and increased revenue.
Partners in the customer feedback and experience management category include: Iterate, Medallia, Qualaroo, Qualtrics, and Usabilla (by SurveyMonkey).
– Product Analytics –
Product analytics platforms provide rich analytics across the customer journey, helping product teams identify what is and is not engaging users. Now, when product analysis reveals an issue, organizations can explore the digital experience in FullStory to identify friction and struggle that prevents customers from conversion, deeper engagement, and ultimately customer success.
Partners in the product analytics category include: Amplitude, Gainsight PX, Heap, and Mixpanel.
– Customer Data Platforms –
Customer data platforms facilitate the collection and organization of customer data. Pairing FullStory's rich digital experience data with a customer data platform makes it easy for teams to swiftly find the insights that matter most.
"Integrating our Tealium Custom Events with FullStory has been a game-changer," shared Satyen Motiani, product analytics manager at TrueCar. "Being able to instantly segment by events we already instrumented in Tealium lets us quickly find the sessions that we need to explore in order to truly understand our customer experience. It's been extremely valuable."
Partners in the customer data platform category include: Lytics, mParticle, Segment, and Tealium.
– Application Performance Management –
Application performance management services monitor the performance of digital applications. Now, issue and anomaly alerts from application performance management services can be combined with user session data in FullStory to help customers contextualize errors and rapidly debug through on-demand bug reproduction, significantly reducing the time needed to resolve issues.
"Sentry and FullStory work together to dramatically reduce the time to resolve errors by linking your users' first-person view of an error with essential runtime error details flowing through Sentry," shared Dave Hayes, head of product management at Sentry. "We're thrilled to work with FullStory to reduce the chaos involved in troubleshooting issues in the customer's experience."
Partners in the application performance management category include Sentry and an integration with Bugsnag.
Further Technology Partner Ecosystem categories include partnerships and integrations with the following:

Live Chat & Customer Success Platforms: Drift, Help Scout, Intercom, Kustomer, Olark, Zendesk
Digital Adoption Platforms: Appcues, Chameleon, Pendo
Inbound Call Tracking Software: DialogTech, CallRail, Delacon
Customer Relationship Management: Salesforce
Digital Analytics: Adobe Analytics, Google Analytics
Content Management Systems: BigCommerce, Magento, Unbounce, SAP Commerce Cloud, Shopify, Squiz, WooCommerce, Wordpress
Tag Management Systems: Adobe Tag Manager, Google Tag Manager, Signal Tag Management, Tealium IQ
Team Collaboration Software: Jira, Slack, Trello
Workflow Automation: Tray.io
Find the expanding list of integrations from FullStory's Technology Partner Ecosystem here: https://partners.fullstory.com/integrations/
Organizations interested in joining the FullStory Technology Partner Ecosystem can learn more at: https://www.fullstory.com/partners/technology/
ABOUT FULLSTORY
Founded in 2014, FullStory's digital experience software provides thousands of companies globally with clear, actionable, revenue-increasing insights about their customer experience. FullStory securely stores and organizes digital experience information, making that information easy to understand and act on. Product and software development teams use FullStory to operationalize the digital customer experience, breaking down information silos and turning customer pain points into immediate opportunities to improve their most critical metrics and KPIs. For more information about FullStory, visit http://www.fullstory.com.