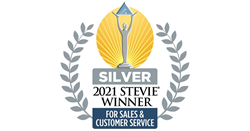 Because of this leap of faith, Fully Accountable was awarded a Silver Stevie Award for Sales Growth.
FAIRLAWN, Ohio (PRWEB) February 04, 2021
The Story Behind the Award:
It's hard to believe that a company would operate without any "Sales Department" for more than half of the year. But Fully Accountable did just that, with the COO and Project Managers taking on additional work in addition to their normal duties. After five full months of searching, the company finally found two people who were able to turn this 5-month mess into one functional department! With help from the Marketing Project Manager and the COO, these two Account Executives developed something that Fully Accountable didn't think would be possible.
COVID-19 is the latest and most interesting event that has had a significant impact on Fully Accountable. After March 2020, when COVID-19 was announced, Fully's growth rate increased by 23.49%. The company now reports 35.84% in overall revenue since July 2019. FA has also added 12 new team members and over 60 new clients.
Fully, like all companies, was at the center of a storm. This year, there were not just one but two major obstacles for them to overcome as they navigated an economic downturn and pandemic. Faced with these challenges, Fully had the courage to take unprecedented action by investing in a sales team.
Because of this leap of faith, Fully Accountable was awarded a Silver Stevie Award for Sales Growth.
Here are some of the judges comments:
"Great story of success with strategic actions"
"Redesigning their company structure, Fully Accountable's results and revenue growth has rocketed with a promising future ahead."
"Great example of leading through this crisis…"
"What an amazing growth story! Think differently and courage makes all the difference. Well done!"
About the Company:
Fully Accountable is a full-service outsourced accounting and fractional CFO company serving eCommerce, technology, and digital businesses throughout North America. The founders of Fully Accountable knew something needed to change when old services were being provided in a new world. And so they embraced new technology and unleashed their secret weapon: the most advanced full-service back office for your business.