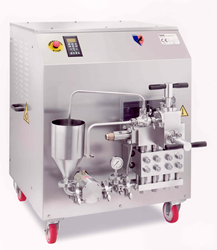 Bedford, NH (PRWEB) June 03, 2015
GEA's Panther™ NS3006L is a high pressure homogenizer, which is a standalone, fully-equipped laboratory unit that is designed for continuous operation up to 1500 bar for limited productions in pilot plants. The Panther™ NS3006L achieves the same results as larger size homogenizers and its compact design allows for easy installation with simple operation, quick maintenance and is also suitable for viscous products. This homogenizer can be used in many different industries, such as food, dairy, chemical, pharmaceutical, cosmetics and biotech.
The Panther™ NS3006L homogenizer is constructed from Super Duplex SS alloy and is fitted with wear resistant components, thereby maximizing the service life at operating pressures. The analog pressure gauge has a sanitary design with a built-in pulsation damper. The Panther™ NS3006L has a rupture type, sharp-edge homogenizing valve (Stellite™) in special abrasion and wear resistant material.
About GEA:
GEA homogenizers is the global technology and market leader for high pressure pumps and homogenizers. Established in 1947 and part of the GEA Group – one of the leading engineering companies worldwide – GEA homogenizers maintains its leadership position through product innovation, reliability and local presence in order to satisfy customer expectations.