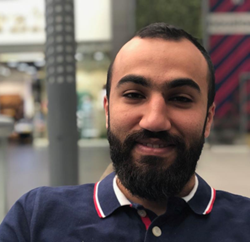 In this hyperconnected online world, getting meaningful work experience and industry exposure shouldn't be limited by where you live or your current situation.
LONDON (PRWEB) November 04, 2020
5 motivated individuals from refugee backgrounds will be completing a 2-month Virtual Internship this November, after earning a scholarship from Virtual Internships in partnership with Kiron, a learning platform for underserved communities. This scholarship, funded by Virtual Internships, will cover the full program fee for the 5 selected recipients to take part in a remote internship with an internationally-based host company through Virtual Internships' program.
The 5 awarded Kiron students include:

Ahmad Al Hajj - a Palestinian refugee pursuing a business internship.
Khadijah Al Dos - a Syrian refugee pursuing a marketing internship.
Maen Abu Al-Haija - a Palestinian refugee pursuing an NGO & non-profit internship.
Eshraq Alaghbari - a Yemeni refugee pursuing a business internship.
Malek Aljnaid - a Syrian refugee pursuing a computer science & IT internship.
Today, only 3 percent of refugees have access to higher education, due to geographic location, work rights, local education systems, and other barriers. The vast majority of these refugees also face legal and practical barriers to entering the formal labor market.
The COVID-19 pandemic has caused a massive shift in attention to remote work opportunities - meaning work conducted completely online. Without the need for travel and the costs associated with traditional work, remote internships are creating new pathways for underrepresented communities, such as those from refugee backgrounds, to gain professional experience and develop their skills and network.
"We are very excited about this collaboration between Kiron and Virtual Internships," said Dr. Tobias Ernst, CEO of Kiron. "These five scholarships are a wonderful opportunity for students from refugee and underserved communities, who are often excluded from many educational and labor market opportunities, to gain experience, skills, and networks for a new start and future employment opportunities."
Recent Virtual Internships program participants have been placed with one of Virtual Internships' 3,500+ host company partners, which span 70+ countries and 18 career fields.
"In this hyperconnected online world, getting meaningful work experience and industry exposure shouldn't be limited by where you live or your current situation," said Ed Holroyd Pearce, president and co-founder of Virtual Internships. "This pilot allows us to offer five refugee students experiences that could potentially enhance their future employment prospects and be a positive influence on their life trajectories. We hope to expand programs like this so that more students in difficulty can benefit from a virtual internship."
Virtual Internships is not the only organization promoting remote work. Due to world events, many organizations have shifted their attention to remote work for the foreseeable future. Amazon also recently announced their plans to continue offering remote work for employees until summer 2021.
"The scholarship means a lot for me, especially since I am struggling in finding a job or internship," Al Hajj said on winning this scholarship. "I am looking forward to expanding my professional network, meeting new people from different countries, and gaining experience!"
"During a crisis, it is even more difficult to find a job," says Louise Linnander, Partnerships Manager at Kiron. "Through the partnership with Virtual Internships, these learners get a great opportunity to experience a virtual workplace, build their skills, get tailored support and mentoring, and grow their networks. This is a very valuable step towards entering the job market and reaching their career goals."
Abu Al-Haija, who is in the process of planning the start of his own non-profit organization, said he is looking forward to learning more about the NGO & non-profit sector. "It's a great privilege to be accepted in this scholarship. It's really something to be proud of - to be one of the 5 winners among all applicants. I'm super excited to start and live such an amazing opportunity."
"This scholarship is considered a great opportunity for me because it can open many doors in the future, because I could not complete my studies due to the difficult circumstances that I am going through," said Alaghbari. "I seek to obtain adequate training and knowledge about business, and also to get experience."
Virtual Internships will work with Kiron to measure the outcomes of the program for recipients both at the point of program completion, and into the future. Internships are well known to boost employability and the growing acceptance of remote internships can be harnessed as a way to increase opportunities for those most in need.
About Virtual Internships
Virtual Internships started after recognizing that the future of work was at our doorstep, and more students across the world would need to prepare for remote work experience while creating a network of virtual connections to succeed. Virtual Internships has supported over 1,500 students from around the globe in completing virtual international internships in 2020. University students seeking global work experience can complete a remote internship alongside their studies, choosing program lengths of 1-4 and committing 10-30 hours of work per week. All students are guaranteed an online internship placement in one of their career fields in host companies across the globe, and are supported with multiple touchpoints including coaching calls, an online curriculum, and structured project plans. Virtual Internships' program follows the highly-regarded National Association of Colleges and Employers (NACE) Career Readiness Competencies framework.
Those interested in learning more about program offerings can visit Virtual Internships' website.
About Kiron
Beginning in 2015, Kiron has been offering free online learning opportunities to refugees and underserved communities worldwide. Their core value on education and its impact on changing lives, transforming communities, and building bridges helps students access high-quality learning opportunities. More than 11,000 students currently have access to the study programs on the online platform Kiron Campus. Kiron is an international organization working across Germany, Lebanon, and Jordan.
Those interested in learning more about Kiron's support of refugee and underserved communities can visit Kiron's website.