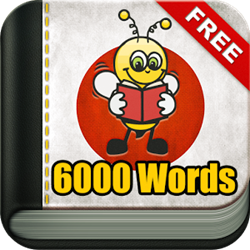 Redesigned Learn Japanese 6000 Words App Creates Great Stir Among Japanese language Learners
(PRWEB) November 12, 2015
Learn Japanese 6000 Words, a much popular language learning app that has already garnered rave reviews from all quarters of Japanese learning community, recently underwent major design changes and upgrades. The developers at Fun Easy Learn, the e-learning app development company that has designed this app, said that the material design of the Android app is the biggest design change that they have brought. They also claimed that this is the biggest design update in the history of the Learn Japanese 6000 Words app. They added that the new design of the app has been voted by their users as a welcome change.
Learn Japanese 6000 Words is a Japanese vocabulary app that comes with 140 different thematic topics and five learning components. The developers maintained that they have fixed many bugs and the material design UI has also been completely changed so that users find it easy to get the meanings and the phonetic transcriptions of different Japanese words and phrases. The developers also claimed that users can learn more than 6000 Japanese words within a relatively short time and it will help them overcome many obstacles that hinder their Japanese learning process.
"Words and phrases have a great role to play in the course of learning any foreign language. Our Japanese learning app is already a massive hit all across. We hope to take it to a greater section of learners with the new design of the Learn Japanese app. We didn't just update the design for the mere sake of it. We wanted to make it look sleeker and smarter. It is a good thing than even the most loyal users have not been disrupted by the design changes and they have big time welcomed the changes", said one senior product designer working with Fun Easy Learn, the e-learning tool producer that has made the app.
"We would encourage everyone to check out our other language learning members. As these apps are free to download and use, anybody who has interest in multiple languages can use the other apps for free as well", said the CEO of Fun Easy Learn during a recent press event.
About the Company
Fun Easy Learn is an e-learning app development company.
To find more about the redesigned Japanese learning app, visit https://play.google.com/store/apps/details?id=com.funeasylearn.japanese
Watch video https://youtu.be/TXAsxZufAsc to get more info.