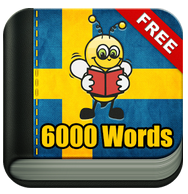 Learn Swedish 6,000 Words Android App Got Redesigned and Re-Launched by Fun Easy Learn
(PRWEB) October 19, 2015
Learn Swedish 6,000 Words, a much successful software product from Fun Easy Learn and an essential for many Swedish language learners, recently underwent major changes on the user interface and database design parts. The developers at Fun Easy Learn claimed that they actually revamped the design of the Swedish language learning app to make sure that users are not stuck in complex navigation. The developers expressed hope that the redesigned Learn Swedish 6,000 Words app will garner positive reviews from both new and old users.
True to its name, Learn Swedish 6,000 Words is a language learning app that has over 6,000 Swedish words and their translations in its database. The users can translate words in their native lexicon to Swedish by using the Android app. However, the owners claimed that the revamped design would make it even easier for new and existing users to get their native language words and phrases translated to Swedish and vice versa. They said that they have improved the UI and also redesigned the database so that Swedish language learning becomes a pleasant experience for the users of the Android app.
"We carefully reviewed the design and UI aspects of the app and also we invited reviews from our existing users. We found that there's still much room for improvement in terms of design and we actually made it happen. Our app developers have worked their socks off to give the app a fresh look within just a few days. The new app has been launched in October 10 this year and we hope that our existing users as well as new users will have an amazing experience with the app while trying to learn Swedish", claimed the CEO of Fun Easy Learn during a recently held press conference. "This doesn't stop here. We will add and edit more design elements as a part of our commitment to our users. We can only say that the app will get better with each day passing", he added.
About the Company
Fun Easy Learn is an e-learning app development firm having a string of language learning apps to its credit.
To know more, visit https://play.google.com/store/apps/details?id=com.funeasylearn.swedish