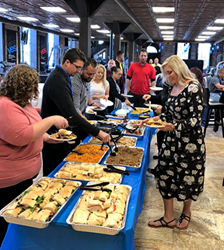 From company-wide contests and ice cream parties to holiday dinners and volunteer opportunities, MaintenX offers something that everyone enjoys.
TAMPA, Fla. (PRWEB) January 28, 2019
The average person spends more than 13 years of their life at work. Tampa-based MaintenX believes that time should be fun and enjoyable. On January 28, National Have Fun at Work Day, MaintenX is reflecting on some of the ways they ensure every workday is fun for their technicians and staff.
"Our team is constantly creating new and exciting ways to make work fun for our employees," said Bill Schaphorst, MaintenX's VP of Business Development. "From company-wide contests and ice cream parties to holiday dinners and volunteer opportunities, MaintenX offers something that everyone enjoys."
In 2018, team members took home thousands of dollars in cash prizes for their winning creativity in competitions to design things like company t-shirts and scary-good Halloween costumes. In 2019, they've also committed to providing more than 200 service hours to help complete a MaintenX-sponsored Habitat for Humanity house in Largo, Fla. MaintenX employees also enjoy watching the Philadelphia Phillies at a spring training game, tickets to Buccaneers football games, and more.
In addition to happy employees, MaintenX has happy customers and has been able to triple in size since 2012. In order to support their rapid growth, MaintenX has opened a number of positions across the nation. There are currently dozens of open positions, including opportunities in HVAC and refrigeration, plumbing, electrical and roofing, as well as office-based service assistant roles.
The MaintenX service team enjoys benefits like medical, dental and vision insurance, 401(k) retirement plans with a five percent company match and immediate vesting, paid vacations, and personal days, as well as unique onsite perks like a fully-equipped gym, sponsored lunches and car wash days.
For more than 37 years, customers have trusted MaintenX technicians to provide superior preventative and reactive facility maintenance. From HVAC repair and 24-hour emergency generators to plumbing installation and roofing services, MaintenX technicians are ready and able to help.
To learn more about joining the MaintenX team, visit http://www.maintenx.com.
ABOUT MAINTENX INTERNATIONAL:
MaintenX International is a fully licensed, facilities repair company. As one of the largest national self-performing facility maintenance and repair companies in the U.S., MaintenX has created a wide network of knowledgeable and professional technicians throughout the country. With their team of well-trained technicians, MaintenX self-performs and manages facility maintenance for their clients. In the event there is not a MaintenX technician in an area, the company has established a network of preferred vendor partners throughout the country for continued superior service for their clients. For more than 37 years, MaintenX has been expertly serving multi-location retail stores, restaurant chains and Fortune 500 companies nationwide.