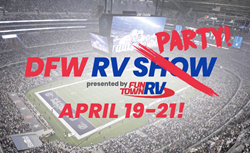 "We wanted to do something more than just a normal RV show." Jarrod McGhee CEO Fun Town RV
ARLINGTON, Texas (PRWEB) April 12, 2019
The Nation's biggest RV Party is at AT&T Stadium April 19 - 21, 2019. 100's of RV's will be placed inside the stadium marking the first event of its kind in stadium history. This event is a must see for RVers and Dallas Cowboys fans alike. There will be games, door prizes, product demonstrations and the latest and greatest RV models being produced. All inside the indoor palace of the NFC East Champion Dallas Cowboys!
Hosted by Fun Town RV, the largest RV retail chain in Texas, the show/party will give visitors the chance to shop towable RVs from 5 manufactures, 32 of the top Brands and over a 100 of latest models and floor-plans. Factory and Banking representatives will be on hand, with special programs and discounts so incredible you may never see them again.
What kind of party would it be without special guests like Rowdy, Dallas Cowboys Players, Alumni, and the world famous Cowboys Cheerleaders. They will be making appearances throughout the entire show. With the biggest guest of all making his appearance Sunday April 21st, the Easter Bunny. The party will feature a visit by the Easter Bunny and age specific egg hunts throughout the afternoon. All you have to do is pre-register the kids and the Easter Bunny will do the rest! All for no charge to our friends, guests and fellow RVers!
"We wanted to do something more than just a normal RV show. In fact I believe that no one should ever have to pay to shop for a RV ever again. This event should be considered a RV Party. That is why we are offering free parking, free admission, door prizes and family fun for all. It is our privilege to host the RV community, the Cowboys Nation and everyone in the Great State of Texas and to have the chance to show them why they should become a part of the Fun Town Family," said Jarrod "The Mayor" McGhee CEO and Owner of Fun Town RV.
"The Cowboys have helped make this event special with player autograph sessions, ultimate fan experiences, Rowdy and Cheerleaders available to interact with everyone during the Party," McGhee continues. "Anytime you get the chance to partner with a world class organization like the Dallas Cowboys and the Jones family it is an honor and a privilege. The fact that our company that started in 2010 with a very humble beginnings and has now grown to an organization that can host an event like this, with a venue like AT&T stadium makes me as proud as I can be."
The show runs from 10 - 8 on April 19th and 20th and 10 - 6 on April 21st. For more information and schedules visit Funtownrvshows.com
All show pricing will be honored at all 10 Fun Town Rv retail locations in Cleburne, Rockwall, Denton, Giddings, Waco, Houston, San Angelo, Purcell, Tyler and at the WinStar Casino.