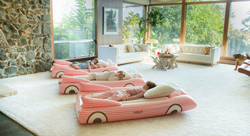 VENICE BEACH, Calif. (PRWEB) May 23, 2023
If you aren't already familiar with FUNBOY as a brand, you are probably familiar with their products. FUNBOY is the company behind the viral pool floats that you see all over Instagram every summer. Their unique and iconic designs include those massive swan floats, huge dome-shaped loungers that fit multiple people, and just about any other aesthetic pool accessory you've seen on every influencer's social media accounts. While they may have the market cornered on pool floats, this innovative brand is now expanding their line of inflatable goods to include their latest creation: the sleepover bed.
FUNBOY's sleepover beds aim to reinvent sleepovers with a cozy, soft, and portable way to enjoy a night away from home. It includes a storage bag and strap so you or your child can take it just about anywhere. The low-profile design is perfect for children aged 3-12 and works great for sleepovers, hotel rooms, grandparents' houses, or anywhere you may need an extra bed. Just inflate before bedtime and watch the bed quickly deflate in the morning so you can pack it up for your next destination.
Co-founders Raquel and Celeste designed this product with moms in mind and had this to say about the new addition to the FUNBOY line up:
"As moms and co-founders, we often travel for work between our LA and Seattle offices. We needed an easy way to make our kids feel at more home when on the road and to make bedtime more fun. We thought - why not turn our iconic pool float designs into kids' sleepover beds? Now when hosting friends or family in your home, you can bring FUNBOY to bed and be the favorite aunt/uncle/grandparent/host ever."
FUNBOY plans to continue to get creative with their world-famous pool float designs. Their line up has not only welcomed the addition of the inflatable sleepover bed, but they have also expanded to include a line of inflatable snow sleds and toboggans. Check out the full line of products on FUNBOY's website.
###
About FUNBOY: As the brainchild of two brothers and their wives, FUNBOY is, at its core, a family business - and we like to think of our customers as one of our own. We're based out of Venice Beach, California and oversee our designs every step of the way - from the initial sketches to prototypes (which we dutifully and eagerly test out) up until the final product. And we've taken considerate steps to minimize our carbon footprint too. In short, we put immense thought, time, and love into each and every one of our pieces so that you can heartily enjoy them without a second thought.