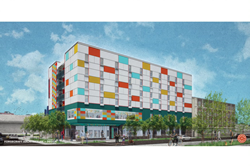 "We are grateful to all of our funding sources and to NHPF for helping us take this offsetting action preventing the devastating loss of PSH for persons experiencing homelessness," says Temenos CDC CEO Eva Thibaudeau.
NEW YORK (PRWEB) October 28, 2021
The NHP Foundation ("NHPF"), a national not-for-profit provider of affordable housing, and Temenos Community Development Corporation (CDC) its local partner, announced construction has begun today to replace 95 homes serving Houstonians who have experienced homelessness. The Texas Department of Transportation (TxDOT) has required an existing 80-home apartment community known as "Temenos II" to be moved to make way for highway improvements. This new development will ensure that those 80 apartments serving Houston's most vulnerable citizens will not be lost. At the same time, 15 existing units for people experiencing homelessness will be completely rebuilt as part of the project.
The new 95-home community called Temenos Place Apartments, will be Permanent Supportive Housing (PSH) focused on reducing homelessness in Houston. Funding for the project includes: $12.5 million From The City of Houston Housing and Community Development and $11 million in Community Development Block Grant (CDBG ) funding for Disaster Recovery from Harris Country. Both City and County CDBG awards were approved by the Texas General Land Office (GLO).
Temenos CDC lent $735,000 to the deal and Key Bank is lending $10 million in construction financing. WNC provided $10.3 million in tax credit equity, tax-exempt bonds were issued by Houston Housing Finance Corporation and 4% tax credits were allocated by Texas Dept of Housing and Community Affairs (TDHCA).
Rental subsidies for the 95 units are being provided by the Houston Housing Authority with approximately $600,000 in annual services funding allocated to the project by HUD with the support of the Coalition for the Homeless.
Temenos CDC, a mission-based provider of affordable housing opportunities, supportive services, and employment resources to people of low- to extremely low income, counts in its portfolio Temenos I (43 apts.), Temenos II (80 apts.) and Temenos III (15 apts.)
According to Neal Drobenare, Sr. Vice President, NHPF and project executive, "Due to conditions unforeseen by Temenos, they and the Houston community were at risk of losing 80 PSH apartments via the eminent domain action." This rebuilding ensures that the 80 rental apartments demolished as part of the TxDOT action will be restored for individuals experiencing homelessness.
The replacement facility for Temenos II will be rebuilt within one mile of the current structure in Midtown on the site of Temenos III. The 15 PSH rental homes located there will be rebuilt as part of this project, bringing the count to 95 in the new project. "This plan allows residents of Temenos ll to have full efficiency rental apartments instead of the Single Room Occupancy (SRO) ones that they are in now," according to Pastors Rudy and Juanita Rasmus, founders of the Temenos development who work closely with residents, adding thanks to TxDOT which has also allowed ample time for resident relocations.
"We are grateful to all of our funding sources for helping us take this offsetting action preventing the devastating loss of PSH for persons experiencing homelessness," says Temenos CDC CEO Eva Thibaudeau. "And to NHPF for partnering with us. As a not-for-profit, NHPF is mission aligned with us and they bring the development expertise and financial capacity that we as a small local nonprofit don't have."
Added Drobenare, "Eva brings a wealth of knowledge about the needs of those experiencing homelessness and provision of services in Houston. We will be relying on her and her team to bring that expertise as we create new housing that residents and the City can be proud of."
The project is anticipated to be completed a year from now. Ray Miller, the Assistant Director for Multifamily Housing and Public Facilities at the City of Houston Housing and Community Development Department who participated in the negotiations with TxDOT noted, "The City and the County made it clear to TxDOT that they need to give the developers the time they need to build a new structure before demolishing Temenos II, as well as providing adequate compensation for the eminent domain process. TxDOT has complied, so all the residents of Temenos II will move directly into the new building."
###
About The NHP Foundation
Headquartered in New York City with offices in Washington, DC, and Chicago, IL, The NHP Foundation (NHPF) was launched on January 30, 1989, as a publicly supported 501(c)(3) not-for-profit real estate corporation. NHPF is dedicated to preserving and creating sustainable, service-enriched multifamily housing, and scattered-site communities that are both affordable to low and moderate income families and seniors, and beneficial to their communities. Through Family-Centered Coaching, NHPF's subsidiary Operation Pathways engages with, and assists, families experiencing poverty and other hardship, to problem-solve together. Through partnerships with major financial institutions, the public sector, faith-based initiatives, and other not-for-profit organizations, NHPF has 57 properties, including 9,664 units, in 15 states and the District of Columbia. For more information, please visit http://www.nhpfoundation.org.