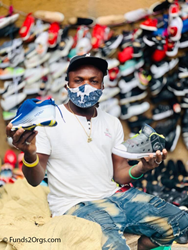 We shifted our messaging to one of hope in the future.
ORLANDO, Fla. (PRWEB) August 05, 2020
Wayne Elsey, Founder & CEO, said, "During the last four months we refocused our company as we got dealt the hand that everyone else did. In April, we shifted our messaging to one of hope in the future. Moreover, we expressed our commitment to our long-term partners and new prospects to help them raise much-needed funds. We also focused on sharing creative fundraising solutions, including virtual, which have nothing to do with asking people for money and selling merchandise no one needs or wants. Candidly, we are humbled and thrilled by the response."
Funds2Orgs sought to keep its fingers on the pulse of the philanthropy sector. In one survey they found, more than 75% of nonprofits canceled their existing fundraisers. Also, more than 73% noted they would miss their fundraising goals by more than 20% at a time when there are significant needs in communities. Elsey continued, "As we realized the challenge, we decided on a three-pronged approach. 1) Remove COVID-19 language since everyone knows what we face. 2) Remind people we are all in this together. 3) Create compelling virtual marketing and fundraising ideas to help as many groups and people as possible raise money. Further, we redoubled efforts digitally, through webinars and social media."
Elsey also expressed that a 9-year-old inspired the idea for a unique direct response strategy. The child drew a shoe on a card with the words #YOUMatter, which is his brand message. Moved by this gesture, Elsey immediately contacted the parents to acquire the rights to the image. He then used the picture on social media and in print as a point of inspiration for all who saw it. Within a week, the direct mail house mailed out 35,000 cards with the image, and it was enthusiastically received.
"In addition, during this regroup period, it was a perfect time for us to move into the new global offices that we acquired last year. Our tenants were struggling, and we released them from their leases and made them whole even though they ended their leases early," Elsey said, "We believe as a company that we always have to do right by others, and it was the right thing to do. I have always said, treat others like you want to get treated. Today, we opened our global headquarters, consolidating our logistics, warehousing, and our expanded fundraising team. We are all now in one location with double the space."
Because of the commitment to growth and partners, Funds2Orgs increased growth, which was enhanced by sharpening the marketing strategy to help the public learn how to fundraise differently—in-person or virtually. By the end of 2021, the company plans to double in size due to the demand for a sustainable fundraiser. For more information about Funds2Orgs, please visit Funds2Orgs.com.
About Wayne Elsey & Funds2Orgs
Wayne Elsey founded Funds2Orgs, making it the leading shoe drive fundraising social enterprise in North America, along with other shoe repurposing brands, such as Sneakers4Funds. As an innovator and business disruptor, Elsey is a member of the Forbes Business Development Council. Elsey has been featured on NBC Nightly News, Good Morning America, Today Show, & Fox News, and is the author of several books.
Funds2Orgs works with nonprofits, schools, community groups, churches, and others, helping them fundraise in an easy, innovative way by collecting shoes. Further, Funds2Orgs works globally in partnership with micro-entrepreneurs in developing nations around the globe. It also offers organizations and local communities a socially responsible way to repurpose unwanted shoes in support of a good cause and the environment.