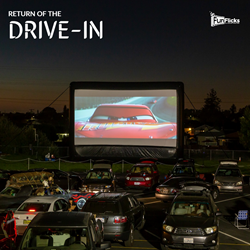 The revitalization of the outdoor movie industry
LOS ANGELES (PRWEB) March 31, 2020
COVID-19 has abruptly shifted how businesses interact with customers. With movie theaters across the nation being shutdown, the industry has adapted to provide movie entertainment in different ways.
The newest trend, a complete drive-in theater can be delivered to you, courtesy of FunFlicks®. America's leading and largest outdoor movie event provider is delivering movie equipment to parks, churches, neighborhoods, shopping centers and parking lots in an effort to supply the demand.
Movie buffs and families alike are seeking alternate avenues to get their movie fix. They have concluded a drive-in movie is a safe alternative to entertain communities while providing social distancing standards.
"The revitalization of the Drive-In movie has increased traffic to our website 203% since the beginning of March." states Todd Severn, Founder and Managing Partner of FunFlicks®.
"People want to get out of their homes and share some sort of community. Although our typical outdoor movie events have been postponed due to the COVID-19 virus, our Epic Drive-In delivery service appears to the new norm. We're pleased about this revitalization because it keeps our employees and our nationwide network of FunFlicks® owners busy, when sadly many entertainment companies are closing their doors," says Chad Hunter, CEO of FunFlicks Outdoor Movies.
FunFlicks® technology is light years ahead of the 1950's sock hop. The hip iconic marquee style screen has been replaced with an inflatable or led movie screens which projects impeccable images. The retro one-ton window speaker has been replaced with FM transmitters that connect wirelessly to your car stereo. Now you'll be able to honor social distancing standards while having a great time with family as you support local businesses.
FunFlicks® delivers outdoor movie services and equipment including projection, led screens, sound systems, popcorn and portable movie screens towering up to 52-feet. All equipment is delivered to a location of your choice. The service is ideal entertainment for crowds at schools, pools, parks, neighborhoods, churches, shopping centers and the now popular pop-up drive-ins. FunFlicks® local business owners across the nation in almost every state have been sharing movies and the brand since 2001. Visit the website here: http://www.funflicks.com
For more information related, please call: (877) 263-0481 or email outdoorcinema@funflicks.com.