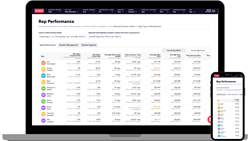 "With sales teams moving remote, you can no longer manage by walking the sales floor," said Marko Savic, Co-Founder and CEO, at FunnelCake. "By releasing the Sales Rep Grader as a free tool, we can do our part to help B2B organizations survive and thrive through these challenging times."
KITCHENER, Ontario (PRWEB) April 20, 2020
FunnelCake, leader in Revenue Operations software, has announced a free plugin for Salesforce users to measure and report on key sales metrics while sales teams adapt to remote work: The Sales Rep Grader. The Salesforce plugin enables B2B sales leaders to increase visibility of key sales metrics and hold sales teams accountable at a time when sales organizations are operating remotely.
With one-click setup, the new solution enables sales leaders to access key metrics in under 5-minutes, providing the data they need to make their goals: deal health, pipeline changes, close rates, sales cycles, and more.
FunnelCake has made the app free to view data for up to 20 sales reps, enabling SMB sales leaders to see their whole sales organization, and larger organizations to view individual teams..
"With sales teams moving remote during COVID-19, you can no longer manage by walking the sales floor. Revenue leaders need real-time visibility and accountability across the organization," said Marko Savic, Co-Founder and CEO, at FunnelCake. "By releasing the Sales Rep Grader as a free tool, we can do our part to help B2B organizations survive and thrive through these challenging times."
Businesses that take advantage of the free offer get access to three reports from FunnelCake's Pro offering:
1. Recent Pipeline Performance
2. Open Pipeline Deal Management
3. Deal Health and Salesforce Hygiene
With sales teams working remotely during COVID-19, FunnelCake can provide timely metrics to help B2B sales teams create structure, focus, and form healthy habits while working from home.
To get started, visit: try.getfunnelcake.com
FunnelCake is also providing a free book, Managing RevOps in a Crisis, to help companies identify the key areas within their control to effectively manage during COVID-19, which can be downloaded at getfunnelcake.com/crisis.
ABOUT FUNNELCAKE
FunnelCake is a single pane of glass for high-growth B2B revenue teams. Manage lead-to-revenue in one place, align your full funnel to revenue, and achieve scalable growth – faster.