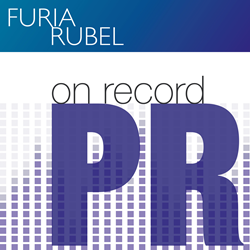 DOYLESTOWN, Pa. (PRWEB) April 16, 2020
As the impact of the coronavirus pandemic continues to unfold, the Furia Rubel team has taken a proactive approach to help clients, contacts and our community navigate through pandemic-related issues and manage through these difficult and uncertain times by developing a Coronavirus Crisis and Resource Center and launching a podcast, On Record PR. The agency also rebranded its website which now includes the COVID-19 Resource Center, the new podcast and tightened-up navigation.
"It is vital, especially in the current environment, to have multiple ways in which we communicate and serve as a resource," said Gina Rubel, Founder and CEO of Furia Rubel and host of On Record PR. "Our aim is to continue to support our clients, business partners, and friends, and we are expanding the ways in which we share knowledge and insight by tapping into our guests' expertise."
In episodes of On Record PR, available on Apple Podcasts, Google Play and Spotify, Rubel and other guest hosts go on record with industry leaders, C-suite executives, journalists, top marketing professionals, and experts to discuss best practices for marketing and public relations that drive business success and navigating through crisis.
Among the On Record PR guests are:

Gina Passarella, editor-in-chief of global brands, ALM Media, How to Best Work with Legal Media
Elizabeth Fenton, partner, Saul Ewing, Composing a Legal Life as a Woman Law Partner
Heather Morse, the chief business development officer for McGlinchey Stafford, How to Differentiate Yourself and Your Law Firm
Gina Rubel also provides thought leadership addressing if your Business is Ready to Handle the Next Crisis
Coming soon:
Renee Branson, founder and principal of RB Consulting and Certified Resilience Coach (CReC)
Nikki Johnson-Huston, a tax attorney, motivational speaker, tech-entrepreneur, advocate on behalf of the homeless, and United States of America's Ms. Pennsylvania 2020
Bridget Wingert, founder and editor of the Bucks County Herald
Ken Jacobs, ACC, CPC, principal of Jacobs Consulting & Executive Coaching
Jill Huse, partner of Society 54 and 2020 president of the Legal Marketing Association (LMA) International Board Of Directors
Kelly MacKinnon, the director of business development at Fried Frank and president-elect of the Legal Marketing Association (LMA) International Board of Directors
Tim Corcoran, principal at Corcoran Consulting Group
Jeane Vidoni, president and CEO of Penn Community Bank
On Record PR is accepting guest recommendations via an online form or by sending an email with the guest's credentials to podcast@furiarubel.com.
About Furia Rubel Marketing and Public Relations: Furia Rubel Marketing and Public Relations is an integrated and strategic marketing, public relations and crisis management agency based in Bucks County, Pennsylvania. The certified woman-owned agency provides strategic planning, marketing, public relations, crisis management, business development, content marketing, and social media services to a wide array of professional service clients. Furia Rubel represents law firms and legaltech organizations, financial, banking and accounting companies, governments and municipalities, and behavioral health and elder care organizations. For more information, visit http://www.furiarubel.com