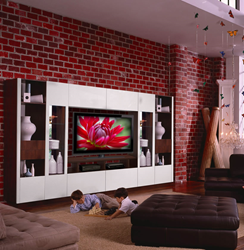 An entertainment center is so much more than just a piece of wood where the TV rests.
Passaic, NJ (PRWEB) May 31, 2014
As affordable televisions are becoming ever larger, customers are starting to look at larger entertainment centers. Custom furniture manufacturer Contempo Space has published a guide on their website to help guide customers through some of the most commonly asked questions about choosing the perfect TV furniture.
"These are not small decisions," notes Contempo Space's Danielle Mancini, commenting on the process of shopping for an entertainment center. "An entertainment center is so much more than just a piece of wood where the TV rests."
"Every home has its own 'flow,' and that is a part of the shopping process." If a family has plenty of visual items that they have out for display for example, features like glass shelves and lighting are good to include in the consideration of an entertainment center.
Another customer may be more inclined to appreciate the privacy afforded by drawer storage and cabinet doors. Some families will find that some combination of these things is best for how they envision their room.
One issue addressed in the guide is how large of a TV cavity is appropriate for an entertainment center which will house a certain size television. Also included are tips on planning the room layout, including how far to place seating from flat screen televisions of multiple sizes.
To read the entire guide, entitled "Entertainment Center Buying Guide for Flat Screen Television Owners," visit http://www.contempospace.com/contempo-space-blog/entertainment-center-buying-guide-flat-screen-tv-owners/.
About Contempo Space:
Contempo Space has been specializing in custom case goods and home furnishings for 30 years, offering modern lines of bedroom furniture, living room furniture, office furniture and more. Design consultants and craftsmen work with customers to create the perfect piece for any space, hand-crafted to meet the customer's specific needs.
To learn more about Contempo Space, the one-of-a-kind company that still puts quality first and still designs and manufactures furniture locally in Passaic, NJ, USA:
Visit http://www.contempospace.com, call 888-266-1280 or come on down to the showroom at 220 Passaic Street, Passaic, NJ.