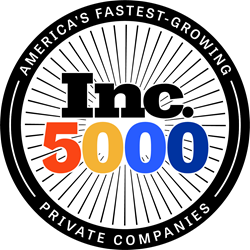 "The transportation and healthcare markets suffer from shortages of qualified candidates. These front-line workers are vital to our economy."
RED BANK, N.J. (PRWEB) August 12, 2020
Fusion Recruiting Labs, Inc. (FusionRL), a SaaS recruitment platform for high-demand industries, was today announced as No. 501 on the 2020 Inc. 5000 List of America's fastest-growing private companies.
For the second year in a row, the Red Bank-based, FusionRL, ranked on the Inc. 5000 list. Starting In 2015, the company spent its first two years establishing a foothold in the high-demand, CDL driver recruitment industry, by specializing in offering a mobile-first job application experience for on-the-go truck drivers. By the end of 2019, FusionRL expanded into healthcare and retail recruitment, launched its SaaS platform for recruitment teams, and grew revenue to $10.6 million, representing an 929% growth in just over three years.
Alex McKeown and his partners created FusionRL to humanize and simplify the recruitment process in high-demand industries through better candidate experiences. FusionRL's industry-specific brands, FATj.com, FindaNursingJob.com, and Talenize, empower employers to build personalized advertising campaigns that attract qualified applicants and increase engagement for recruitment teams.
"We are fortunate to be able to enjoy this success because our employees and our customers understand the pressing need to provide a better path to employment for candidates," said McKeown. "The transportation and healthcare markets suffer from shortages of qualified candidates. These front-line workers are vital to our economy. The job application shouldn't be more challenging than the job. Our team built FusionRL and its supporting platforms to connect qualified candidates with quality companies, fast."
High-profile customers include:

Online retailer and tech giant Amazon
Bayada Home Health Care, which employs over 22,000 healthcare professionals
Shop Rite food store retailers
FusionRL's platforms enable customers in the transportation, warehouse, healthcare, and retail industries to post job advertisements and manage candidate communications. FusionRL's in-house digital marketing teams optimize the campaigns to attract the highest number of qualified candidates. In 2020, the need for front-line workers in these industries has grown considerably, and FusionRL's suite of products relieved candidate shortage stresses. Over the past five years, FusionRL has worked with over 1,000 companies across America to satisfy their hiring needs.
About Fusion Recruiting Labs
Fusion Recruiting Labs, Inc. builds employment tools that accelerate hiring processes and increase the efficiency of recruitment advertising campaigns for the fast-growing needs of Human Resources Departments. FusionRL's suite of products gives employers the power to drive their candidate lead generation process to fill open jobs quickly, identify qualified leads, and provide the best candidate experience. Our track record of success has proven that we save time and money for our customers. To learn more about transportation recruitment services, visit hire.fatj.com. To learn more about healthcare recruitment services, visit fanjhealthcare.com.