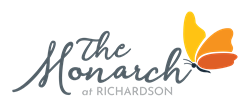 RICHARDSON, Texas (PRWEB) July 27, 2020
"When Thomas, the grandson of a Monarch at Richardson resident, approached the community about his service project, I think he was unsure we would be interested," said Kim Horn, General Manager of The Monarch at Richardson. "But I was very excited, because this is a much-needed project. And I thought it was so sweet that one of the family members thought of our community and his grandmother for his Eagle Scout project."
Thinking of others is a core element of the Boy Scouts of America (BSA) philosophy and something that Thomas Lee Hermann of Garland, Texas, who began his Scouting journey as a Cub Scout, is very familiar with. Hermann has worked hard over the years to move up the ranks with the goal of one day becoming an Eagle Scout — the biggest achievement a Boy Scout can earn. In fact, accomplishing this goal is so challenging that only about 6.5% of all eligible Boy Scouts earned the Eagle rank in 2018. The most intense and time-consuming aspect of the process, which comes in the last three to six months of the Scouting experience, is planning and executing a service project that benefits the community.
Often coming up with a great project idea is the hardest part. But not for Hermann. He knew that most Eagle service projects are construction-based, and after several visits to see his grandmother, Francis Hamlet, he had no problem coming up with one. "I knew The Monarch was looking for aid on making some raised gardens for their memory care neighborhood, and I offered to help," Hermann said, "and I also decided I could do a lot more than just make gardens."
That decision came after a fact-finding mission with surprises that lead the 17 year-old to enlarge the scope of his project. I could see how their trail had been untouched without clean up, and I knew I wanted to fix that," Hermann said. "The project isn't done, but almost all of the preparation is complete. All I need is materials and funds, then we can have the work day. I already have all the paperwork and approvals, a work crew and tools."
Hermann is excited that his big project will soon be complete, and so is The Monarch. "He is providing such a great service by improving not only the gardens, but also the benches and the trail so the residents can enjoy them," said Horn. "His communication and respect for us and our community has been outstanding. He started this before the pandemic, and now he is so thoughtful to ensure he is following COVID-19 guidelines for the project — I love that from a teenager!"
Even though Hermann will soon be done with his service project, and leaving the Boy Scouts behind, he still has Scouting plans for the future. "Once my project is complete," he said, "I will talk to The Monarch about letting other younger Scouts help them in the future with their Eagle projects."
The Monarch also has some future plans. "We haven't told the residents about this project. We're looking forward to surprising them when it's complete and having an event to celebrate, with Thomas as our guest of honor," said Horn. "I know the residents will love the results, because they love getting outdoors. I can't wait for us, and for Thomas, to see the big smiles on everyone's faces — and that includes his lovely grandmother."
The Monarch at Richardson is an assisted living and memory care community conveniently located in the Cottonwood Creek neighborhood of Richardson. For more than 15 years, residents have enjoyed the location's big-city-style living with the feel of a close-knit community. With an abundance of amenities, services and innovative programs, residents experience a customized lifestyle with meaning, engagement and fulfillment every day.
The media contact for more information about The Monarch at Richardson is Kim Brawley at: kbrawley@solutionsadvisorsgroup.com or 972-342-0252
For public inquiries about the community, contact Kim Brawley at: kbrawley@solutionsadvisorsgroup.com or 972-342-0252
Visit The Monarch at Richardson at:TheMonarchRichardson.com
1493 Richardson Drive| Richardson, TX 75080 | 972-231-3313 | TheMonarchRichardson.com
Facebook | EOE | Handicap | Pet-Friendly | Assisted Living Facility #010273