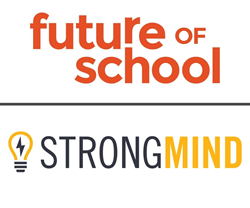 StrongMind's track record as an innovator in the digital learning space make them an ideal partner to enhance our collaboration.
DENVER (PRWEB) December 16, 2020
Future of School (FoS) today announced that StrongMind, a trusted source for innovative digital learning solutions, has joined as a Resilient Schools Project (RSP) partner. The RSP is a partnership between FoS and the Digital Learning Collaborative (DLC) designed to assist schools and districts with developing an ongoing response to instruction disruptions during the 2020-21 school year and to achieve long-term goals related to school system innovation.
"The Resilient Schools Project is an ambitious initiative to proactively disrupt the status quo in education. We aim not simply to react to needs presented by the pandemic, but to strategically pursue much-needed transformational change," said Amy Valentine, CEO of Future of School. "As such, Future of School and the Digital Learning Collaborative are pleased to welcome StrongMind as a valued partner in the RSP. StrongMind's track record as an innovator in the digital learning space, combined with the company's comprehensive approach to solutions development, make them an ideal partner to enhance our collaboration."
StrongMind delivers comprehensive strategies designed to help schools tackle their specific challenges and enable student success. The StrongMind approach centers on fostering crucial relationships throughout the learning journey―from students and parents, to teachers and administrators―facilitated by a team dedicated to supporting schools and districts looking to improve or establish fully virtual or hybrid learning solutions. The company generates future-proof solutions―from high-quality digital curriculum and social emotional learning, to turn-key operations solutions―that empower teachers and increase student engagement. StrongMind's relationship-centered, solutions-oriented process aligns with the RSP's approach to long-term collaboration and pursuit of ambitious goals.
"We are excited to work with Future of School and the Digital Learning Collaborative on the RSP. This project will not only provide timely expertise to schools during the pandemic, but will also contribute to long-term student success through ongoing collaborations," said Mary Gifford, President of StrongMind.
The Resilient Schools Project will help schools tackle immediate instructional and technology needs, addressing a variety of related challenges and objectives. Some of these objectives include teacher training; addressing vulnerable populations, both within the school community and at home; and determining what to do if students choose to learn from home after schools have reopened.
The Project also has a set of long-term goals, including maintaining a focus on meeting the needs of those who matter the most in schools—students; and highlighting the power of collaboration and connectivity in redesigning school models from a one-size-fits-all approach to creative, student-centric learning environments. StrongMind's participation will enhance the RSP's ability to achieve each of these short- and long-term objectives.
The RSP currently has 10 member districts who are engaging in a facilitated professional collaborative network. Throughout the year-long Project, FoS is focused on broadcasting the impact that innovation has on transforming the teaching-learning process and forecasting what the days, months and years ahead hold for reimagining the K-12 education system. Through webinars, podcasts, articles and more, FoS will share updates, proven practices, and diverse perspectives on the development of innovative and equitable educational environments. To learn more about the Resilient Schools Project and future participation opportunities, please e-mail Amy Valentine at avalentine@futureof.school. To track the RSP's progress throughout the year, visit http://futureof.school/rsp.
About Future of School
Future of School (FoS) mobilizes change in American K-12 education from a one-size-fits-all system to one that ensures all students reach their unbounded potential no matter where their learning takes place. By amplifying technology's impact on students and educators, FoS informs, inspires and spearheads much needed transformation. Learn more at http://www.futureof.school
About StrongMind
StrongMind partners with schools to build innovative digital solutions and provide educational services that address unique school challenges. With a consultative approach, engaging digital curriculum, social emotional learning (SEL), clear insights, and a mobile engagement engine, we maximize student achievement. A recent recipient of the Emmy® and Edtech awards, and a previous winner of more than 60 awards, StrongMind provides tailored digital learning experiences that work for schools and families. To learn more, visit http://www.StrongMind.com