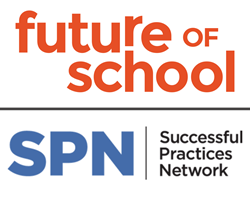 We're excited to have an expert partner in the Successful Practices Network to support our efforts to advance the critical mission of the RSP.
DENVER (PRWEB) January 12, 2021
Future of School (FoS) today announced that the Successful Practices Network (SPN), which provides customized design support, consulting and training related to dropout prevention, trauma skills, career and technical education and literacy, has joined as a partner in the Resilient Schools Project (RSP). The RSP, a partnership between FoS and the Digital Learning Collaborative (DLC), is an initiative to assist schools and districts with developing an ongoing response to instruction disruptions during the 2020-21 school year.
"The future of education in our country requires flexibility, a growth mindset, and collaboration to ensure that dated systems are brought into the here and now," said Amy Valentine, CEO of Future of School. "This is only possible if we come together, lock arms, and establish a strong collective synergy, committed to new models of teaching and learning. We're excited to have an expert partner in the Successful Practices Network to support our efforts to advance the critical mission of the RSP."
Building capacity for system-wide innovation requires an intentionally aligned team supported by experts and colleagues from other systems tackling this important work. In partnership with Dr. Bill Daggett and AASA (the School Superintendents' Association), the SPN formed the Future-Focused Schools Collaborative, an ongoing blended support model for superintendents and their leadership teams to work together and study best practices.
SPN, which works with schools and districts globally, is also home to the National Dropout Prevention Center (NDPC), the Career & Technical Education (CTE) Technical Assistance Center, WE Surveys and more.
"We looking forward to working alongside Future of School and the Digital Learning Collaborative, as well as the Resilient Schools Project member districts, as we all strive toward a future in which the U.S. education system is equipped to succeed through any circumstances or challenges," said Ray McNulty, President of the Successful Practices Network. "By sharing our experience in convening productive partnerships to design successful strategies, we hope to be a valuable partner in the RSP and provide beneficial takeaways for all school districts."
Education stakeholders can hear a conversation between Amy Valentine and Ray McNulty on this week's new episode of Future of School: The Podcast, releasing tomorrow. Listeners can subscribe on all podcast apps or find the full series of episodes on Anchor: https://anchor.fm/futureofschool
The RSP currently has 10 member districts that are engaging in a facilitated professional collaborative network. Throughout the year, the RSP will work with these districts to find, share, and/or create guidance on key issues and best practices.
In addition to addressing vulnerable populations, both within the school community and at home, the RSP is helping school districts solve a number of other challenges. These include teacher training; messaging and communication to families and the media; supporting the needs of special populations, including English language learners; and determining what to do if students choose to learn from home after schools have reopened. Throughout the year-long Project, FoS is focused on broadcasting the impact that innovation has on transforming the teaching-learning process and forecasting what the days, months and years ahead hold for reimagining the K-12 education system.
To learn more about the Resilient Schools Project and future participation opportunities, please e-mail Amy Valentine at avalentine@futureof.school. To track the RSP's progress throughout the year, visit http://futureof.school/rsp.
About Future of School
Future of School (FoS) mobilizes change in American K-12 education from a one-size-fits-all system to one that ensures all students reach their unbounded potential no matter where their learning takes place. By amplifying technology's impact on students and educators, FoS informs, inspires and spearheads much needed transformation. Learn more at http://www.futureof.school
About the Successful Practices Network
The Successful Practices Network (SPN) is a not-for-profit organization that works with schools and districts globally. We are dedicated to bringing our members the most up-to-date resources and assistance to achieve success by design, specializing in the areas of Dropout Prevention, Trauma Skills, Career and Technical Education and Literacy. Learn more at https://spnetwork.org/