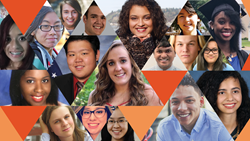 DENVER (PRWEB) August 12, 2020
Future of School (FoS), a national public charity focused on access to quality public education, today announced its 2020 Student Scholarship Program (SSP) winners. High school graduates from 23 states were awarded this competitive scholarship of up to $10,000 each. The financial award will support post-secondary education plans for nearly 40 students who are choosing to attend vocational, tech or trade programs, community colleges, or four-year universities
Since 2016, FoS has supported digital pioneers—both students and teachers alike—with the ultimate goal of demonstrating to all Americans the importance of transforming schools to include more innovative, tech-enabled teaching and learning opportunities. Student scholarship winners submit written essays and video testimonials focusing on the impact of digital education on their lives. Now more than ever, these success stories are important lessons for schools as they navigate plans for reopening amidst the pandemic.
In her video, 2020 SSP Scholar Alaina Smith stated, "In these trying times it's been so difficult for all of us. There hasn't been a single one of us that hasn't been affected by what's going on. However, I can say that my schooling was unaffected. Because I was already going to online school...I didn't miss a beat."
"Our scholarship program is unique; it honors students who have pursued education opportunities designed to ensure their personal success after high school," said Amy Valentine, CEO of Future of School. "Some recipients stayed enrolled in their local high school while taking online college courses, while others sought out blended learning programs with flexible designs. Whatever the program looked liked, the common thread among all winners was that their education program was the one aspect of their lives that remained constant and that they could rely on during the pandemic."
This Thursday, August 13 at 5 p.m. EDT, Future of School is hosting a webinar featuring scholarship winners who will share their perspectives on the benefits and advantages of blended and online learning. The second in the series titled, "Moving from the Margins", this student-led panel is designed to empower, enlighten and inspire others as schools prepare to reopen this fall.
More information, including a link to register for the upcoming webinar, can be found on the Future of School webpage: http://futureof.school/fos-webinars
###
More About Future of School
In addition to providing scholarships to digital pioneers, Future of School also gives grants to teachers to transform their classrooms, publishes research insights on the field of digital education, and, most recently, amplifying voices through a creative program to support district/school transformation called the Resilient Schools Project.
Find out more at: http://futureof.school.