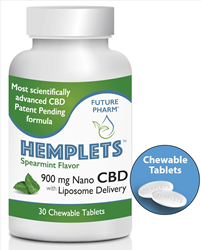 We are excited to announce our patent pending Liposomal chewable tablet Hemplets! Science backed technology.
PHOENIX (PRWEB) August 04, 2020
Future Pharm recently released its latest product, HEMPLETS™. HEMPLETS™ is the only liposomal chewable tablet in the world that has a patent pending liposome platform. It is designed to have an average particle distribution of 165 Nano meters, increases oral absorbance and bioavailability. HEMPLETS™ is designed to deliver a potent dose of CBD that is THC free in an oral tablet form unlike anything else. HEMPLETS™ is a highly advanced technology in a solid convenient chewable dosage form.
A liposome is a protective lipid layer that encapsulates CBD molecules by using liposomals as carriers. This led to the development of a completely new range of a CBD product that is patent pending. HEMPLETS™ liposomal CBD delivers products in chewable flavors that are unmatched in quality and scientifically proven while providing a fast and effective form of CBD supplementation. "We are excited to announce our patent pending Liposomal chewable tablet HEMPLETS™, which is science backed technology," states Gina Haynie, founder of Future Pharm.
CBD is supplied in the USA by cGMP, FDA registered manufacturers using CO2 extraction. The solvent is considered a cleaner, purer form of extraction because there is no residue after extraction, which is what makes this new product so unique. HEMPLETS™ Liposome Chewable Tablets uses all-natural flavors and ingredients.
HEMPLETS™ is currently available for sale on the Future Pharm website and select retailers.
About Future Pharm
Future Pharm offers products developed to be used as a preventative and alternative solution for people seeking a natural option to health concerns, using plant-based remedies to help people heal their bodies and their lives. See the FAQ section of their website for list of ingredients in their products.
For more information, contact:
Gina Haynie, Founder
Future Pharm
info(at)myfuturepharm.com
https://myfuturepharm.com
T: (888) 841-7216