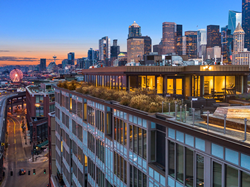 "This will be a timely discussion about the extraordinary changes taking place and how developers, brokers, and residents are viewing the opportunity," said Scott Wasner. "It's also a neighborhood celebration of what's to come with our current and prospective homebuyers."
SEATTLE (PRWEB) March 19, 2019
A multi-year, multi-billion-dollar transformation of Seattle's waterfront is triggering a residential revival along the two-mile stretch that—until recently—was best known for the Alaskan Way Viaduct. Now with the elevated highway coming down, brokers say interest in living near the seaside promenade is rising.
"It's a gamechanger," said Moira Holley, a co-founder of Realogics Sotheby's International Realty (RSIR) and a Senior Global Real Estate Advisor. "Our waterfront will finally join world-class cities like Vancouver and San Francisco as a key attraction and a place to gather, shop, dine, and play. We forecast a surge in both demand and property values as it all comes together. We couldn't be more excited for it to happen."
Holley is a listing broker on Gridiron Condominiums, a 107-unit mixed-use development in Pioneer Square's Stadium District that reclaimed a century-old brick building and now hosts industrial-chic condominiums forged in concrete and glass and developed by Daniels Real Estate. Now more than 50% sold, Holley says the recently-completed building is well positioned to benefit from the emerging waterfront neighborhood.
"The first time I came here in 1970, I took a look at this big freeway between the water and the city, and I said who the heck would do that," recalled Charlie Royer, the former Mayor of the City of Seattle from 1978 to 1990. "It served its purpose, and now it's coming down. The city is elated. The waterfront is fabulous. It's the biggest transformation we've gone through since the Great Fire back in the 1800's—although this is a much happier circumstance."
Royer, who described the new waterfront as Seattle's Central Park, will be one of several panelists to speak to Geekwire and members of the FutureCast Forum on March 21st atop the Gridiron Condominiums. Other presents will include Kevin Daniels of Daniels Real Estate, Julia Nagele of HEWITT, and both Moira Holley and Scott Wasner of RSIR. You can RSVP here.
"This will be a timely discussion about the extraordinary changes taking place and how developers, brokers, and residents are viewing the opportunity," said Wasner. "It's also a neighborhood celebration of what's to come with our current and prospective homebuyers."
The event will feature catering by Carmines, wines by Brown Vineyards, and other local business. Guests will be greeted by valet parking and offered tours of the property. A gallery-like showcase of renderings provided by the City of Seattle will illustrate the full vision for the waterfront as well as other projects planned for the community.
The FutureCast Forum is a collaborative of opinion leaders that explores the current and projected market fundamentals and trends influencing the Seattle/Bellevue metro area by 2020 and beyond. Its founding members and guest columnists will provide timely insights on the state of the economy, commercial, and residential development, evolving demographics, wealth management considerations, government policy, lifestyle pursuits, and international catalysts that are shaping the regional landscape.
Guests are encouraged to register at http://www.GridironCondos.com.
Read more at Geekwire.