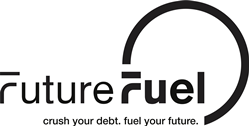 BOSTON (PRWEB) November 12, 2019
FutureFuel.io, a technology provider of student debt employer benefits solutions, today announced its inclusion on the CNBC Upstart 100 List. The annual list covers the top, fastest-growing start-ups to watch in 2019.
Student debt is a massive problem, impacting 45 million Americans, totalling $1.6 trillion. FutureFuel.io is working with the private sector to find a solution — with the goal of reducing student debt by $1.5 billion by 2021.
FutureFuel.io provides employers with a better way to attract and retain top talent, while giving employees a tool proven to reduce student loan repayment dramatically. With FutureFuel.io's platform, companies are now able to leverage and expand existing wellness reimbursement programs to include student loans.
The Upstart 100 is CNBC's exclusive list of promising young start-ups, featuring a diverse group of companies that are building brands and breaking industry barriers on the path to becoming tomorrow's household names. In order to be eligible for this list, companies must be private and independent companies with no more than $50 million in funding at a level B series or earlier.
"We are so excited to be included on this highly respected list. We're seeing rapid adoption from employers and their employees who are struggling to go beyond dis-ease and student loan indebtedness and into financial health and wellness," said Laurel Taylor, Founder and CEO of FutureFuel.io.
"Offering benefits that help crush student debt will be the new normal in 2-3 years. The question employers should be asking themselves is where they will fall in the spectrum of adopting the fastest growing benefits in the financial health and wellness stack and competing for top talent in today's very tight labor market as a result."
This announcement comes on the heels of FutureFuel.io's exciting partnership with Fiserv (previously First Data). The program offers qualified First Data associates the opportunity to direct earned performance rewards points to pay down their student debt and achieve financial freedom faster.
FutureFuel.io recently raised an $11.2 million Series A round, and is backed by world renowned investors like Salesforce Ventures, Rethink Impact, Vulcan Capital, Fiserv, and the Financial Health Network (formerly CFSI), among other iconic institutions at the intersection of the future of work, fintech, and social impact.
For more information on the CNBC Upstart 100 List, visit: https://www.cnbc.com/upstart/.
About FutureFuel.io
FutureFuel.io exists to crush student debt with innovative technology, partnerships, and machine learning solutions. FutureFuel.io's Student Debt FinHealth platform enables employers to offer benefits designed to attack employees' No. 1 source of financial stress: student debt. Zero payroll integration required. Launched and live within an hour. To learn more about FutureFuel.io, visit https://futurefuel.io/.