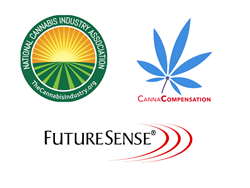 FutureSense passionately believes that better data supports better decisions. We are confident this survey will grow in participation and provide companies in the cannabis and hemp industries with critical information to compete effectively for employees. said Jim Finkelstein, President & CEO
LA PALMA, Calif. (PRWEB) January 13, 2020
NCIA and FutureSense have joined forces to help cannabis and hemp companies better understand the talent market and how to attract, retain, and motivate employees through compensation.
FutureSense, in collaboration with NCIA, is pleased to announce the first formally executed compensation survey created for the cannabis and hemp industries. A growing number of companies have been looking for data and best practices for their executives and employees. This survey provides benchmark data to understand compensation trends better and remain competitive for talent in the marketplace.
FutureSense leverages its 25 years of experience providing compensation guidance and managing surveys to build a comprehensive set of pay data that was gathered in a thoughtful and compliant manner. The information is a first for the cannabis and hemp industries covering almost 100 positions and a wide range of job families, including executives, cultivation, science, retail, and several other distinct categories. The result is the industry's first real look into pay data as viewed by professional compensation experts.
Active participants will have a competitive advantage with quarterly updates throughout the year. Participation is easy and quick! Interested companies can go to http://www.CannaCompensation.com to get started.
This survey is just one element of FutureSense's long-term commitment to the cannabis and hemp industries. Others include a full range of services in the areas of human resources, recruiting and onboarding, employee and executive compensation, equity and incentive plans, organizational development and training, and leadership development and coaching. A summary of the findings can be accessed here.
About FutureSense, LLC
FutureSense provides integrated solutions to build and sustain human capacity and optimize organizational performance. FutureSense specializes in people, pay, organization, and strategy, offering unique and comprehensive services to create solutions that make a difference. For more information, visit http://www.futuresense.com.
About National Cannabis Industry Association (NCIA)
NCIA is a 501(c)(6) nonprofit trade association with the mission of advancing the legal and responsible cannabis industry. NCIA is the largest national trade association advancing the interests of the legitimate and responsible cannabis industry. On behalf of our hundreds of member-businesses, NCIA is leading the cannabis industry's unified advocacy and public relations campaign. For more information, visit https://thecannabisindustry.org.