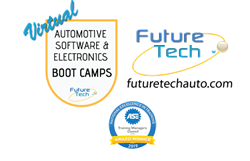 LAS VEGAS (PRWEB) May 18, 2021
After launching the virtual edition of the ASE award-winning Automotive Software & Electronics Fundamentals Boot Camp in May, FutureTech has partnered with MACS to present an accelerated course track in Fall 2021. The course will run from November 9 – December 9, 2021, and will include approximately 32 hours of instructor-led group sessions, 27 hands-on assignments, 12 quizzes, and a course capstone project. Participants will receive a project kit with all tools, components, and supplies required to participate in the Boot Camp.
The price to register for the course is $2,195.00, which is now open on http://www.access-ondemand.com, under the Courses section. This course reschedules the dates previously announced for Track 3 (originally scheduled for August 24-December 2, 2021). Full information about the curriculum, schedule and format are available on the registration page.
In honor of the sponsorship of MACS, FutureTech is including additional training with each registration: free enrollment into their self-paced on-demand Electrified Vehicle Heating, Ventilation, and Air Conditioning (HVAC) course bundle – A $545.00 value. This bundle includes:

A coupon code for the free HVAC bundle will be provided immediately after paid registration, which provides additional training opportunities before the November 9th start date of the Virtual Boot Camp.
The boot camp will teach learners how to quickly create circuits and code software to build their own diagnostic tools or training aids. They will also learn how to control advanced vehicle systems for the purpose of diagnosing real (or simulated) problems. Automotive service professionals will develop skills to create simulators, demonstrators, and will also learn how simple electronic and software circuits can be used with the Scan Tool to develop circuits that can make complex diagnostics easier.
The course is a blend of scheduled training with a live instructor and self-study in an online format, with hands-on projects created with a student project kit that is shipped directly to each participant after enrollment (prior to the first session). The format is meant to mirror the hands-on classroom experience, and participants can expect the same rigor and one-on-one attention with course developer and instructor Dr. Mark Quarto.
Information about the Intermediate Virtual Boot Camp and scheduling for 2022 are forthcoming. Those who are interested in hosting a boot camp or requesting a private Virtual Boot Camp Track can contact FutureTech Auto. Bulk discounts are also available.
About FutureTech Auto: FutureTech Auto is a leading supplier of Vehicle Electrification technology solutions to the automotive aftermarket. Services include scalable Hybrid & Electric Vehicle diagnostic equipment and support systems, hands-on training, On-Demand training online, and aligning clients with VE professionals for consulting and special projects.