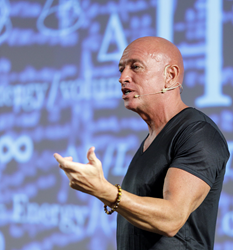 "The war of the future will not be between nation states or ideologies." - Mark Joyner
LAS VEGAS (PRWEB) April 04, 2020
Mark Joyner (the inventor of the ebook, the tracking pixel, and well-known Silicon Valley entrepreneur/futurist) released a new book last month that predicted the Covid-19 panic 3 weeks before "the week that changed the world" created "the new normal."
His predictions have been consistently accurate for decades (including calling the Trump presidency the day after the first debate, when everyone said Trump had no chance).
The War of the Future
Joyner's latest book, Your Roadmap to Money in 2020, predicts that the war of the future will be "between fast moving technology and slow moving governments."
He predicts this will trigger what he calls a "Transition Tribulation" that will "make the Great Depression look like a Sunday stroll through the park.
In stark contrast to more optimistic futurists like Ray Kurzweil and Peter Diamandis, Joyner believes "whether the current rapid pace of technological change will lead to utopia, dystopia, or oblivion, we face an unavoidable transition period where governments will not be able to cope with the pace of change.
Citing such events as the development of 3D printable automatic weapons and the 2018 assassination attempt on Venezuelan President Nicolás Maduro with a commercial drone purchased over the Internet, he presents a case that technology has already reached a point where it will no longer be controllable by our current forms of government.
The 3 Essential Hedges
Joyner advises that, since the governmental models of the past will soon be rendered obsolete, he advises everyone on the planet to engage in what he calls "The 3 Essential Hedges" to increase their chances of survival.
Because of the urgency of this situation Joyner has made his new (soon to be released on the mass market) book available for free download at http://www.YourRoadMapToMoney.com