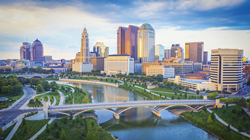 "While we have the utmost confidence in our technology, it is nice to have the City of Columbus come to the same conclusion when our platform was tested against other technologies." - Bob Glatz, CEO — Fybr
ST. LOUIS (PRWEB) March 03, 2020
Fybr was selected to move forward with an expansion of a parking pilot with the City of Columbus, Ohio. The City is testing Parking Space Availability Technology to provide accurate, real-time parking data via its ParkColumbus mobile app, powered by ParkMobile.
After a rigorous evaluation and a three-month trial, Fybr's Smart Parking Solution was selected to provide real-time occupancy data of on-street parking information in the vibrant Short North Arts District. Due to the success of the pilot, Columbus now plans to expand the program with the deployment of additional parking sensors. "While we have the utmost confidence in our technology, it is nice to have the City of Columbus come to the same conclusion when our platform was tested against other technologies," said Bob Glatz, CEO of Fybr.
Fybr was chosen as the technology provider to move forward with a pilot expansion that will run for the next 3 to 6 months. If successful, the City may continue to expand the program.
About Fybr's Parking Sensor III
Fybr's parking sensor offers a highly accurate, low-cost solution for detecting vehicles in a wide range of spaces—including on-street, in surface lots, and garages.
With ultra-low latency and a 7-10 year battery life, the Parking Sensor III accurately delivers real-time space occupancy— allowing both consumers and cities to make better, more informed decisions about parking.
About Fybr
Fybr provides a Smart City Platform—helping communities with efficiency, reduced operating costs, and improved quality of life. With a highly secure, turnkey solution for quickly processing information, Fybr delivers the best and fastest opportunity to create a return on investment. Located in Saint Louis, MO, with a 20-year history, Fybr's patented IoT solutions have over two billion data events logged globally from real-world applications.