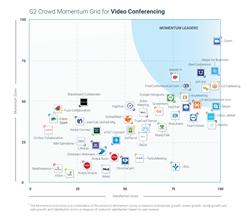 "The new G2 Crowd Momentum Grid is the first tool that helps buyers select solutions based on where these markets will be in the future. This is just one more way we're advancing our mission to bring transparency to the B2B marketplace." - Godard Abel, CEO and chairman, G2 Crowd
CHICAGO (PRWEB) August 15, 2018
G2 Crowd, the world's leading marketplace for business software and services, today announces the launch of its new Momentum Grid Reports, which are helping buyers select solutions that will meet their needs now and in the future.
The new report series showcases the business solutions with the highest growth trajectory based on a proprietary algorithm that factors a product's user satisfaction, online presence, and employee headcount growth over the last year.
G2 Crowd's first quarterly release, available today, features six reports covering the following categories: Video Conferencing, Business Intelligence Platforms, Project Management, Core HR, Infrastructure as a Service, and Low-Code Development Platforms.
"Given the rapid pace of innovation and change in technology markets, today's B2B buyer needs to have a forward-looking perspective when it comes to purchasing new business solutions," said Godard Abel, CEO and chairman, G2 Crowd. "The new G2 Crowd Momentum Grid is the first tool that helps buyer select solutions based on where these markets will be in the future. This is just one more way we're advancing our mission to bring transparency to the B2B marketplace."
The Momentum Score is used to position products on the Momentum Grid, which measures Momentum on the Y-axis and User Satisfaction on the X-axis. Products included in the Momentum Grid must have received a minimum of ten reviews and one year of user data. These ratings could change as opinions change, vendors grow, and their products continue to develop. A new Momentum Grid will be issued for each category as significant insights are collected. Badges will be awarded to products with the top Momentum Grid Scores.
"For years, buyers have come to G2 Crowd to support their business buying decisions by understanding what the actual users of the technology report through authentic peer reviews," said Michael Fauscette, chief research officer, G2 Crowd. "Our new Momentum Grid provides a different view into our review data by highlighting the products that are trending in each category. This is one more way we keep our community apprised of the products that are pushing the boundaries of their category, which helps buyers looking for 'hot' new technologies make more informed purchasing decisions."
In addition to helping streamline the selection process for buyers, the Momentum Grid will provide vendors, investors, analysts, and the media with benchmarks they can use for comparing products and analyzing market trends.
To write a review, please visit G2Crowd.com.
About G2 Crowd
G2 Crowd, the world's leading business solution review platform, leverages more than 475,000 user reviews to drive better purchasing decisions. Business professionals, buyers, investors, and analysts use the site to compare and select the best software and services based on peer reviews and synthesized social data. Every month, more than 1.5 million people visit G2 Crowd's site to gain unique insights. Co-founded by the founder and former executives of SaaS leaders like BigMachines (acquired by Oracle) and SteelBrick (acquired by Salesforce) and backed by more than $45 million in capital, G2 Crowd aims to bring authenticity and transparency to the business marketplace.