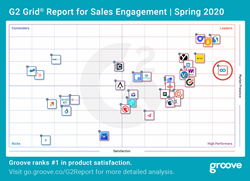 "Groove's platform has topped G2's Best Sales Engagement Software list since Fall 2018 due to extremely positive reviews across every satisfaction rating," said Michael Fauscette, Chief Research Officer at G2.
SAN FRANCISCO (PRWEB) March 24, 2020
Groove, a leading sales engagement platform for account-based revenue teams, today announced that its platform has received the highest product satisfaction rankings in G2's Spring 2020 Grid Report across three categories: Sales Engagement Software, Email Tracking Software, and Outbound Call Tracking Software. Groove has topped G2's Best Sales Engagement Software list for two consecutive years.
Released today, G2's Spring 2020 Grid report for Sales Engagement Software ranks the performance of 33 different sales engagement platforms. Groove outranked every competitor across eight satisfaction rating categories. Top scores based on verified users include:

94% would recommend Groove
93% say Groove is easy to use
92% say Groove is easy to set up
93% believe Groove meets all of their requirements
96% find it easy to do business with Groove
95% say Groove is headed in the right direction
Groove also received the highest G2 Relationship Index score, which is calculated by assessing scores across user satisfaction, ease of doing business with, quality of support, and likelihood to recommend the product.
"Groove's platform has topped G2's Best Sales Engagement Software list since Fall 2018 due to extremely positive reviews across every satisfaction rating," said Michael Fauscette, Chief Research Officer at G2. "While Groove's customer satisfaction scores were the highest in their category, Groove received exceptionally high marks for their ease of doing business with, quality of customer support, email tracking/automation and CRM integration."
PRODUCT FEEDBACK AND REVIEWS FROM VERIFIED USERS
G2's Spring 2020 Sales Engagement Grid Report allows software buyers to drill down into user feedback on more than 60 product and service attributes, as well as written reviews from verified users, including:
"Out of the 10 tools that I manage in our Sales Ops tech stack, I would consider Groove as the only true partner I have." - Salesforce Admin, GoodData
"Groove has helped the reps prioritize who are the most engaged prospects and where they need to follow up next to maximize productivity and buyer attention." - Vice President of Revenue Operations, Zappi
"Never having to worry about an activity or record update syncing from a sales engagement system to a CRM is game-changing." - Sr. Sales and Marketing Operations Manager, HG Insights
G2 2020 SPRING SALES ENGAGEMENT SOFTWARE REPORT BY GROOVE
A detailed overview of these Spring 2020 findings have been compiled in Groove's G2 Sales Engagement Software Report. Explore the rankings of the 33 sales engagement software providers and the multitude of factors that contribute to Groove's leadership position in product satisfaction.
DOWNLOAD GROOVE'S G2 SPRING 2020 SALES ENGAGEMENT SOFTWARE REPORT
In addition to being the highest-rated sales engagement platform, Groove is also the only platform that was built specifically for account executives, focusing on ease-of-use, advanced activity capture, and cross-team collaboration. Groove's platform can be configured to meet the complex requirements of different divisions and organizations within an enterprise, and leads the industry with a unique architecture that ensures the highest levels of security and compliance.
This strategic approach has resulted in Groove's rapid adoption by some of the world's fast-growing companies and global enterprises, including Google, Uber, Atlassian, BBVA and Veola Water.
GROOVE #1 RANKINGS IN G2'S MARCH 2020 GRID REPORTS

About G2.com (formerly G2 Crowd)
Headquartered in Chicago, G2 Crowd is revolutionizing the way businesses discover, buy and manage software and services. More than three million users per month rely on G2 to help them find and buy the best software for their businesses. The platform has 900,000 reviews, and $100M in total funding invested by IVP, Accel Partners, LinkedIn, Emergence Capital, Pritzker Group, Chicago Ventures, Hyde Park Ventures, industry leaders and founders. G2's customers include IBM and Zoom and Its most recent funding, a $55M Series C, was announced in October, closely followed by the company's acquisitions of Siftery and Advocately.
About Groove.co
Groove is a leading sales engagement platform that makes account-based revenue teams more efficient and effective at finding, landing, renewing and expanding revenue. Groove delivers a 10X productivity boost to your most expensive and valuable resources, enabling them to spend more time building relationships and generating revenue.
Over 40,000 sales development, account executive and customer success representatives use Groove at some of the world's largest and fastest growing companies, including Google, Uber, Slack, Atlassian, Tipalti, and BBVA. Groove has earned the highest customer satisfaction rating on G2 in the sales engagement category for two years running.
Groove is one of the Inc. 5000 fastest-growing privately held companies in the U.S. and ranks #14 on the San Francisco Business Times' "fastest-growing private companies in the Bay Area in 2019." Founded in 2014, Groove is headquartered in San Francisco with offices in San Diego and Seattle. To learn more, visit http://www.groove.co.