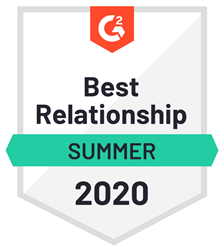 CHARLOTTETOWN, Prince Edward Island and CHICAGO (PRWEB) July 08, 2020
ScreenScape's digital signage software platform and supporting services earned the highest relationship score in G2's latest rankings of the world's leading business solutions.
The Summer 2020 Report from the much-respected user review platform, which leverages more than one million reviews to drive better purchasing decisions, ranked ScreenScape highest among digital signage content management software solutions, for:
Ease of doing business;
Likelihood to recommend;
Quality of Support.
"These results are a testament to our team, which prides itself on providing excellent customer service, and also our solution - which has simplified and streamlined the process of buying and managing a digital signage network," says ScreenScape Founder & CEO Mark Hemphill. "We'd like to thank all customers who took the time to provide G2 with their feedback."
"Rankings on G2 reports are based on data provided to us by real users," said Michael Fauscette, chief research officer, G2. "We are always thrilled to share the achievements of the products ranked on our site because they represent the voice of the user and offer valuable insights to potential buyers everywhere."
For more than twelve years the ScreenScape team has been engineering thoughtfully crafted software for digital signage . The new ScreenScape5 raises the bar when it comes to beautiful aesthetics, ease-of-use, and ease-of-management while delivering dramatic savings in the total cost of owning a digital signage network.
Using a simple plug and play device, ScreenScape customers can quickly turn any screen into a connected digital sign. Once a screen is connected it can be updated, monitored and managed over the Internet using ScreenScape's industry leading Media Manager software.
A subscription to ScreenScape also includes an easy-to-use content management system that offers time-saving media templates, flexible editing tools, built-in infotainment options and a range of automation techniques. Training and support is included entirely free of charge, and there are no hidden costs.
Together these components deliver a scalable communications network that empowers your organization to create stunning visuals that capture and hold the attention of your audience wherever a screen is located.
Subscribe to us on Youtube. Follow us on Twitter or connect with us on Facebook or LinkedIn.
About G2
G2, the world's leading business solution review platform, leverages more than 1,000,000 user reviews to drive better purchasing decisions. Business professionals, buyers, investors, and analysts use the site to compare and select the best software and services based on peer reviews and synthesized social data. Every month, more than one million people visit G2's site to gain unique insights.
G2's relationship score is calculated by a proprietary algorithm that factors in real-user satisfaction ratings for a number of relationship-related review questions. Software buyers can compare products in the Digital Signage category according to their Relationship scores to streamline the buying process and quickly identify the products that provide the best relationship with software vendors based on the experiences of their peers. More specifically, the Relationship score is affected by the following (in order of importance):
Customers' reported ease of doing business with the vendor based on reviews by G2 users
Customers' satisfaction with the product's quality of support based on reviews by G2 users.
Customers' likelihood to recommend each product based on reviews by G2 users
The number of reviews received on G2; buyers trust a product with more reviews, and a greater number of reviews indicates a more representative and accurate reflection of the customer experience.
Follow G2 on Twitter or connect with us on Facebook or LinkedIn.