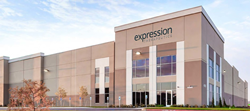 "We decided to utilize advanced pre-built modular cleanrooms from G-CON to accelerate our buildout..."
COLLEGE STATION, Texas (PRWEB) August 05, 2020
G-CON Manufacturing, the leader in prefabricated, flexible cleanroom solutions, announced today that it has been selected by Expression Therapeutics to support its cleanroom build-out at its new clinical manufacturing facility in Cincinnati, Ohio. The PODs will provide the cleanroom infrastructure for the production of Expression Therapeutics' cell and gene therapies.
For this project, time was a critical factor for Expression Therapeutics. Offsite manufacturing of the cleanroom infrastructure allowed for concurrent preparation of their new host facility, significantly reducing the project's overall timeline. Future expandability was also key, as their POD system is being designed to accommodate Expression Therapeutics' cleanroom needs for its next phase. Removable panels incorporated into the POD walls will easily allow integration of additional POD clean space. Since PODs are autonomous and completely assembled offsite, this expansion will result in minimal downtime and disruption to the functioning first phase POD cleanrooms.
"It's great to work in an industry where innovation moves so fast and helps people live better lives," said Tim Rasmussen, Sales Engineer at G-CON Manufacturing. "Companies like Expression Therapeutics need infrastructure to develop breakthrough therapies, and they need them fast. We are proud to play a part in making patients' lives better by delivering state of the art cleanroom solutions more quickly than any other solution on the market."
"We decided to utilize advanced pre-built modular cleanrooms from G-CON to accelerate our buildout and commence vector manufacturing this year. With vector GMP manufacturing backlogs today typically exceeding 18 months, we wanted to bring on additional capacity as soon as possible to serve clients" said Bill Swaney, Vice President of Manufacturing for Expression Therapeutics.
About G-CON Manufacturing
G-CON Manufacturing designs, builds and installs prefabricated G-CON POD® cleanrooms. G-CON's POD portfolio provides cleanrooms in a number of dimensions for a variety of uses, from laboratory environments to personalized medicine and production process platforms. G-CON POD® cleanroom units surpass traditional cleanroom structures in scalability, mobility and the possibility of repurposing the PODs once the production process reaches its lifecycle end. For more information, please visit G-CON's website at http://www.gconbio.com.
G-CON Manufacturing... BUILDING FOR LIFE™
About Expression Therapeutics
Expression Therapeutics is a biotechnology company based in Atlanta and Cincinnati. The current therapeutic pipeline includes advanced gene therapies for hemophilia, neuroblastoma, T-cell leukemia/lymphoma, acute myeloid leukemia (AML), and primary immunodeficiencies such as hemophagocytic lymphohistiocytosis (HLH).