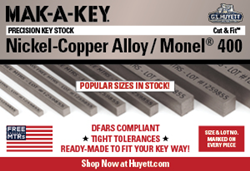 G.L. Huyett's MAK-A-KEY® Nickel-Copper Alloy / Monel® 400 Key Stock is DFARS compliant, with tight tolerances, and is ready-made to fit your key way. Free MTRs are available with your purchase.
MINNEAPOLIS, Kan. (PRWEB) July 07, 2020
G.L. Huyett has expanded their key stock product line offering to include DFARS compliant MAK-A-KEY® Nickel-Copper Alloy / Monel® 400 Key Stock with free MTRs. Stocked and ready to ship, this key stock is produced with extremely tight tolerances, and is ready-made to fit your key way! Finished stock is marked with size and lot number for easy identification and tracking. Visit http://www.huyett.com/keystock to order or to learn more about the benefits and uses of nickel-copper alloy key stock.
Finally, there is an off-the-shelf source for nickel-copper alloy key stock in many popular sizes. This saves time and eliminates the costly and tedious process of cutting and milling raw stock into the finished bars needed for your application.
"We're well-positioned to support the supply chains need for key stock suited for extreme temperatures that is also highly-resistant to corrosion in saltwater or chemical environments. Our nickel-copper alloy is DFARS compliant and provides high-quality, tightly-toleranced key stock to the industry," David Dollarhide, G.L. Huyett's Sales Engineer noted, adding, "I have invested a lot of time to make this happen based on customer inquiry and stated needs, as this was not previously offered in the industry."
Nickel-Copper Alloy / Monel® 400 can be easily welded, brazed, and soldered without becoming weak and brittle. It is also excellent in subzero temperatures as it remains strong and solid with little impairment of ductility or impact resistance. This makes the alloy vital in many industries like marine, energy production, oil & gas, aerospace, and chemical production due to its high chemical & corrosion resistance, extreme temperature range, and works well in saltwater/underwater environments.
In addition to nickel-copper alloy key stock, G.L. Huyett offers over 1,100 product lines ranging from pins & wire forms, retaining rings, key stock & machine keys, grease fittings, engineered fasteners, premium lifting hardware, flat stock & drill rod, hose clamps, bearing lock nuts/washers, rivet nuts, washers, and more! See our complete line of products at http://www.huyett.com.
"Adding nickel-copper alloy key stock to our stocked product offering will certainly help fill a void for many of our customers, but we realize that there are others who will need custom solutions. Our onsite manufacturing facility can provide every size of key stock ever made in a wide range of materials," explained Dan Harriger, G.L. Huyett's Vice President of Sales. "We're also your go to source for knowledgeable in-field technical support and exceptional customer service."
If you are looking for a custom solution, contact our friendly sales representatives at 785-392-3017, or shop online at http://www.huyett.com to get FREE* MTRs and certifications along with 5% off all web orders over $100*!
*Some Exclusions Apply
MONEL® is a trademark of Special Metals Corporation.
MAK-A-KEY® is a trademark of G.L. Huyett.
About G.L. Huyett
Established in 1906 by Guy Huyett in the "other Minneapolis," the company is one of the oldest continuously operating businesses in Kansas. The firm is a leading innovator of products and services geared to support industrial distributors in the non-threaded fastener and power transmission sectors, delivered by competent customer-centric people operating in a Culture of Excellence.