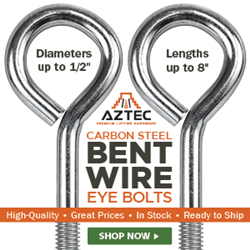 G.L. Huyett's new zinc plated carbon steel Bent Wire Eye Bolts compliment their extensive line of Aztec Premium Lifting Hardware.
MINNEAPOLIS, Kan. (PRWEB) September 22, 2020
G.L. Huyett has expanded their Aztec Premium Lifting Hardware product line to include zinc plated low carbon steel Bent Wire Eye Bolts available in diameters up to ½" and lengths up to 8". To order or to learn more about the benefits and uses of Bent Wire Eye visit http://www.huyett.com/Aztec.
"Introducing Bent Wire Eye Bolts provides more options for our fastener distributor customers who support construction and industrial supply chains." Dan Harriger, G.L. Huyett's Vice President of Sales, noted. "Manufactured from steel wire with machine screw threads, Bent Wire Eye Bolts are ideal for use in light duty through-hole applications utilizing static loads, as tie-downs, or to route wire, rope, chain, or cable. They can also be used to hang fixtures, anchor light loads, and attach wire rope to structures or equipment. However, they should not be used for rigging or lifting as the eye loop can open under heavy loads."
G.L. Huyett now stocks Bent Wire Eye Bolts in zinc plated low carbon steel that is shipped with a mating hex nut. Zinc plated carbon steel provides greater strength and hardness while minimizing wear in high usage applications.
Every product in our Aztec Premium Lifting Hardware line is available online and in our Aztec Premium Lifting Hardware catalog which features over 2,000 RoHS- and Proposition 65-Compliant self-colored, stainless steel, galvanized, and zinc components in metric and inch sizes. Visit http://www.huyett.com/catalogs to request or download a copy today.
In addition to standard off the shelf products, G.L. Huyett manufacturers made to order custom parts and even has an easy to use online quoting tool specifically geared towards lifting hardware. "Our distributor customers are frequently asked for custom solutions for highly specialized applications with strict requirements that meet or exceed industry standards. Our LiftingIQ tool allows customers to specify material, finish, dimensions, thread type, and quantities for clevis ends, lifting eye nuts, lifting eye bolts, nut eye bolts, rod ends, and yoke ends. The LiftingIQ tool is just one way G.L. Huyett makes it easy for them to get what they need quickly to close sales and keep their customers coming back," noted Harriger. To get an instant custom lifting hardware quote today along with a price and a print, visit http://www.huyett.com/LiftingIQ.
While online, be sure to register or sign in to see Your Pricing and Quantity Breaks along with Your Complete Order History. Then you can visit at any time to check Order Status, see Expected Ship Dates, or get up to date Order Tracking information. You'll even have 24/7 access to FREE* MTRs and CofCs from Your Account Order History, and get 5% off all web orders over $100.* Or, give our friendly sales team a call at 785-392-3017 or email sales@huyett.com.
*Some exclusions apply
About G.L. Huyett
Established in 1906 by Guy Huyett in the "other Minneapolis," the company is one of the oldest continuously operating businesses in Kansas. The firm is a leading innovator of products and services geared to support industrial distributors in the non-threaded fastener and power transmission sectors, delivered by competent customer-centric people operating in a Culture of Excellence.